Industry concerned vagueness of allowable solutions proposals will weaken nascent housing recovery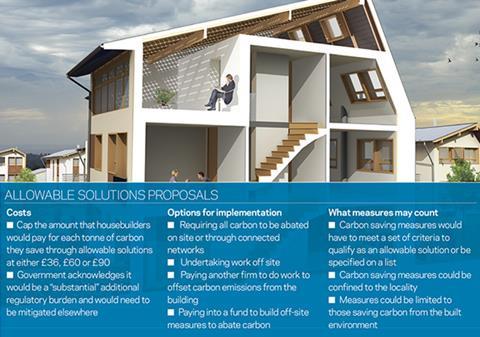 Fresh fears that the government's path to introducing zero-carbon homes may put the nascent housebuilding recovery at risk have emerged after its long-awaited consultation on part of its plans failed to provide the industry with certainty on key questions.
This week the government published its consultation plans for allowable solutions - where housebuilders undertake actions outside of the building itself to contribute towards meeting their zero-carbon obligations, such as renewable energy schemes for the community or paying into a fund to offset carbon emissions.
This came two years after the Zero Carbon Hub, the body set up to oversee progress towards the 2016 zero-carbon requirement, first set out plans for how allowable solutions might be met, followed by an updated detailed review of options in September 2012.
But this week's document only presented the industry with a broad set of options, rather than solid proposals, for how the scheme should work (see box). On the key question of how the obligation should be calculated it asked respondents for more evidence, while on the issue of monitoring and delivering the scheme it laid out a wide array of options.
The government did say the policy would cost the housebuilding industry a maximum of £224m a year, with plans to cap the amount they would need to spend to meet their zero-carbon obligations through allowable solutions. The government added that this figure was likely to be an "overestimate".
Industry leaders warned that the lack of a clear path to zero carbon could harm a housing recovery that saw Q2 housing starts increase by a third on last year. This week the Construction Products Association revised up its forecast for growth across the industry on the back of the spike in the housing market, with the latest Markit/CIPS survey of construction buyers also pointing to sharp growth in residential activity.
Brian Berry, the Federation of Master Builders' chief executive, said: "It's disappointing that we have not got a clearer recommendation because uncertainty is very, very detrimental."
He said the government was "making the right sounds", but he doubted there would be firm proposals on allowable solutions until early 2014 – only two years out from the implementation of the zero-carbon requirement.
Colin Morrison, director of sustainability at planning consultant Turley Associates said it was now "asking a lot" to have the scheme "up and running by 2016".
He said: "I don't think we can underestimate the work needed to translate this document into a viable policy."
He added: "Because there are so many outstanding questions that need to be resolved quickly, it could be a hindrance [to housebuilding] unless the government responds to the consultation quickly."
The proposals follow last week's announcement of the government's plans for changes to Part L of the Building Regulations, set to come into force in April 2014.
Roger Humber, strategic policy advisor at the House Builders Association, said that it was "not acceptable" to change building regulations in 2014 and then again in 2016.
"The combined elements of this [zero-carbon] policy of fabric and carbon compliance and allowable solutions is going to put small housebuilders out of business because it's too complex," he said.
The consultation is open until 15 October 2013.