Industry experts tell government to stop dithering and publish its plan amid reports it will be delayed until the autumn
Industry experts have told the government to stop dithering and publish its plan for decarbonising buildings following reports that it has been delayed by a row over funding.
UK Green Building Council chief executive Julie Hirigoyen said the government needs to give the industry long term certainty by releasing its delayed heat and building strategy.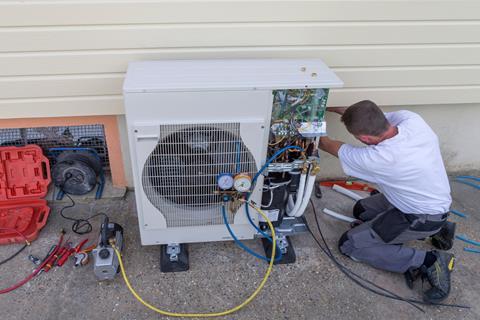 The plan was originally promised earlier this year but media reports last week said that ministers now expect it no earlier than September.
It is believed the government talks have been stuck over how subsidies to incentivise people to buy heat pumps will be funded amid fears tax hikes will lead to a backlash from voters.
Heat pumps, which can save up to 80% of carbon emissions, currently cost up to £35,000 each, can emit noise which breaches legal limits and are at least 10% more expensive to run than traditional gas boilers.
But the green heating systems, which work by absorbing heat from the environment, are a key element of the government's plans to cut carbon emissions from buildings as part of its goal to achieve net zero by 2050.
The government is under pressure to announce its net zero strategy, including the heat and building strategy, before the UK hosts the COP26 climate conference in Glasgow this November. Homes and offices combined currently account for a third of the UK's carbon emissions.
Ministers have said that the heat and building strategy will ban gas boilers from new build properties from 2025 and from all properties by 2035.
Hirigoyen told Building: "Decarbonising heat is vital for meeting our legal climate targets and a key opportunity to generate green jobs at scale.
"The industry needs long term certainty to deliver, not more hesitation and delay."
And Ground Source Heat Pump Association (GSHPA) chair Laura Bishop said that "hard decisions" would have to be made if the government wants to decarbonise.
She said that concern was now growing in the heat pump industry that the strategy would be watered down, adding that a delay to the government's planned gas boiler ban would be a major setback because it would take pressure off developers to switch to using heat pumps.
Bishop, a chartered engineer who is also the director of heat pump consultancy Infinitas Design, said that the cost of heat pumps could be funded by taxing gas instead of electricity.
But she admitted that the government would see this as a "very dangerous thing to do" because it would result in people's gas bills going "through the roof".
"I think when they've actually come to the crunch and realised the big, major, fundamental changes that need to be made to the way that we generate and buy energy in the UK, they have realised, 'hang on, this is a big job'."
But she added: "How can they possibly achieve their legally binding net zero targets, how can they achieve 600,000 heat pumps a year by 2028, which Boris Johnson keeps talking about, if they don't make these fundamental changes? It is hard but they've got to do it."
She said lowering the cost of electricity would incentivise people to invest in heat pumps but that the government needed to communicate this more effectively.
Bishop also said that an "extremely well-funded" lobbying campaign by the gas boiler industry was underway to spread "misinformation" about heat pumps.
"It's almost like seeing a dying animal lashing out. They will do whatever they can to make everybody think that heat pumps are rubbish and gas and hydrogen is the way to go. It makes my blood boil."
The GSHPA has recently hired its own lobbyist to improve perceptions of heat pumps.
The government said in a statement: "We have always said that we will set out plans to decarbonise heat and buildings, including through a bespoke strategy, this year.
"Decarbonising our homes and buildings in a fair and affordable way for consumers and the taxpayer is a key element of our strategy to achieve this goal."
The Department of Business, Energy and Industrial Strategy has admitted that there are major obstacles to persuading homeowners to install heat pumps.
In an online industry event in May, it conceded that it was "uncertain" what the "optimal solution" was in achieving its target of installing 600,000 heat pumps each year by 2028 in the 24.5 million homes that need them.