Industry calls on government to reach a deal with the EU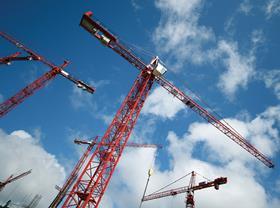 Northern Ireland's construction industry could already be in a recession, a trade body representing the industry there has warned.
The Belfast-based Construction Employers Federation (CEF) said a survey of its members showed the market was facing its most challenging conditions since 2012.
The CEF surveyed 80 Northern Ireland-based firms that were responsible for turnover of almost £1bn in 2018/19.
The federation's managing director John Armstrong said: "As Brexit continues to dominate the agenda, this survey is the reality of over two and a half years since the collapse of the Northern Ireland Executive and additional continued economic uncertainty.
"The industry is reporting alarming increases in redundancies and projected redundancies since our survey was last conducted in February. Added to this, there is a systemic sustainability risk which is making more and more firms once again look with concern to their future."
Three-quarters of the firms who responded to the survey said the government needed to reach an agreement with the EU that included a transition period before Brexit takes place.
Surprisingly 15% of firms said the UK should leave without a deal, while 10% said they neither agree nor disagree with the idea of a no-deal Brexit.
Almost two-thirds of respondents thought the local construction market would worsen in the next 12 months, while another 25% thought it would stay the same.
Only 35% of respondents said they were at full or almost full capacity down from 75% when the survey was last conducted in February.
The survey also found 28% of firms have already made redundancies, with a further 48% considering this likely in the next three months.
More than a third of respondents said margins had got worse or significantly worse in the previous 12 months, while 55% said they had stayed the same.