Industry fears further delays to implementation of regulations on sustainable urban drainage systems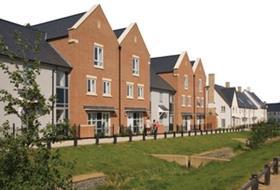 The construction industry is braced for further delays to the introduction of rules to boost the inclusion of flood alleviation measures on developments, amid fears that the government's consultation on the plans has done little to resolve key issues blocking the implementation of the rules.
Under the Flood and Water Management Act 2010, developers are required to install sustainable urban drainage systems (Suds), which allow more water to seep into the ground rather than flowing into the waste water system.
But four years after the law was passed the regulations to implement the Suds requirements have not yet come into force.
This is partly because many local authorities have not set up the Sustainable Urban Drainage Approval Bodies (SABs), which are meant to approve local Suds schemes, while the issue of who will take responsibility for maintaining the Suds or how ongoing maintenance will be funded is yet to be resolved.
The new regulations had been due to take effect in October 2014 but this was delayed, with the government issuing a fresh consultation on the plans in September.
But now Paul Shaffer, associate at industry body CIRIA, has told Building that because the consultation "did not give any definitive way forward" on how the Suds regime would be implemented he feared the implementation of the regulations could be hit by further delays.
He said he had expected the government to clarify the issue of who would maintain the drainage systems over the summer, rather than issue a fresh consultation.
He said: "It's difficult to see how the proposals in the consultation clarify this… There's a series of options for maintenance that have not defined how maintenance will be taken forward.
He added he was "not optimistic" that the government would have firm plans in place in spring 2015, as it had promised.
He said: "Bearing in mind the history and the ambiguities that still need clarification, that's pretty ambitious.
"What people are looking for in an organisation that has robust accountability and is willing to adequately maintain Suds during the life of the development. There needs to be some certainty."
A Department for Environment, Food & Rural Affairs spokesperson the proposals would entail a "quick" introduction of Suds and "provide better flood protection to people sooner".
He added: "We are looking at the responses to the consultation which has just closed before making any decisions."