Government proposals raise concerns that vital areas of sustainability will not be covered by fresh standards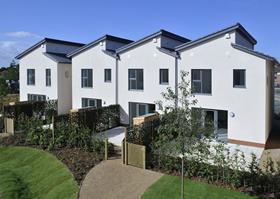 The government plans to phase out the Code for Sustainable Homes as part of a shakeup of housebuilding regulation, raising concerns it lacks a vision for sustainable housing.
The housing standards review consultation, published today, proposes getting rid of the Code for Sustainable Homes and using building regulations or a new set of national standards as the primary driver for improvement in homes' green credentials.
It said: "The government proposes to wind down the role of the Code. We will put in place transitional arrangements to ensure that contractual commitments under the Code can be properly covered."
But Paul King, chief executive of UK Green Building Council, said while it made sense to "rationalise" standards in the industry there were holes in the government's proposed standards.
"With the demise of the Code for Sustainable Homes and big omissions around materials and ecology, we risk losing a momentum that has transformed the way homes have been built over the last seven years." he said.
"Government claims its plans will take off the bureaucratic handbrake that holds back house building, but it is in danger of letting key sustainability considerations roll away completely."
He said the government needed "a vision for national housing standards" so the industry could have "clarity and certainty" over what it would be required to do in the future.