Spanish group points finger at budget cuts levelled at UK local councils for write-down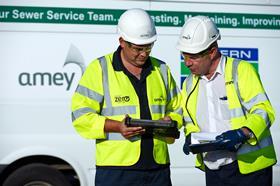 Spanish infrastructure giant Ferrovial has taken a €774m (£663m) valuation hit on Amey, its UK services arm, after effectively classifying its entire services operation as being up for sale.
Last December it was reported that Ferrovial had appointed Goldman Sachs to hunt for a buyer for its global services business, which includes Amey.
Downgrading the book value of Amey by 87% to €103m (£88m) Ferrovial said it had been adversely affected by the downturn in UK services' activity in recent years, although it was business as usual at the Oxfordshire-based firm.
Amey's parent said cuts to local government budgets had caused "numerous uncertainties", while there had been a series of contractual disputes between service providers and their clients.
A decade ago Amey signed a £2.7bn deal with Birmingham City Council to service a 2,500km road network, but that contract got bogged down in a legal row which was eventually won by the local authority and led to the firm taking a £208m hit.
Ferrovial, which operates in Spain, Australia, Chile, the US, Canada and Poland, said it was still committed to the UK, as "crystallised in its presence in all its business lines".
Last summer Ferrovial announced it was switching the base for its international holding company from Oxford to Amsterdam in the Netherlands, because of uncertainty around Brexit.