North America, Australia and Middle East are main targets as UK heads for 'triple-dip recession'
North America, Australia and the Middle East will be the biggest target markets for global construction firms over the next two years as firms shy away from European regions hit by recession, research by KPMG suggests.
Its survey of 140 firms worldwide revealed that 93% would make the Middle East a focus despite recent economic problems in the UAE, while 95% will focus on Australia and 95% on North America. All three regions saw major increases in interest, as did Africa (a target market for 90% of respondents) and Asia (a target market for 92%).
There were drops in overall interest towards Central America, Europe, South America and the UK, although all still provided a focus for a large number of firms. India also proved less of a target than it has in the past.
Fiona McDermott, UK head of building and construction at KPMG, said: "The willingness of contractors to move into new markets, and possibly to evolve their value proposition, could be the difference between thriving and merely surviving. With margins unlikely to rise for traditional business, such a repositioning could be vital."
Moving into new markets could be the difference between thriving and merely surviving
Fiona McDermott, KPMG
Among UK firms, the power and energy sector topped the list of both public and private sector targets for the next two years. Sixty-seven per cent of respondents said that the public power and energy sector was a high priority, and 60% identified private clients in the sector as a target. Water-related projects were also a key market.
The change in focus comes as the Construction Products Association predicted the industry would hit a third dip, returning to negative growth next year and in 2012, after the two earlier periods of output decline experienced since the recession began in 2007.
Home and away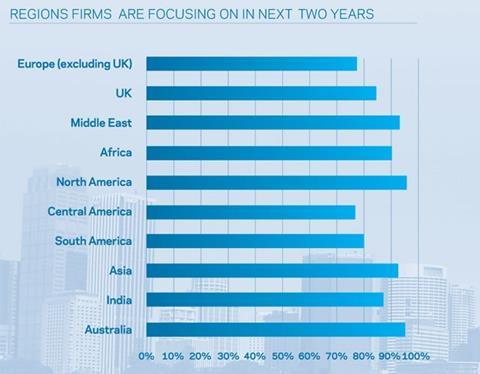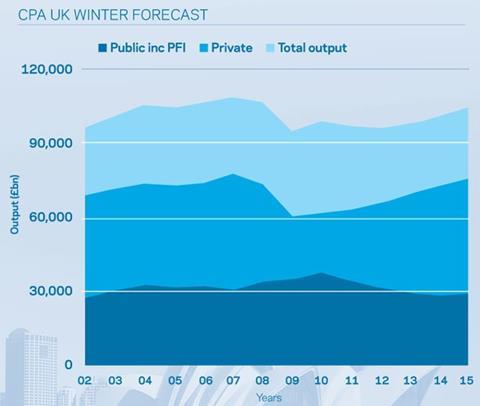 The output falls, of 2% next year and 0.7% in 2012, are deeper than previously anticipated because of the quick cuts to public spending and weaker than expected private sector growth.
Kelly Forrest, senior economist at the CPA, said the organisation expected a weaker end to 2010 because of the early wintry conditions, following three quarters of strong growth this year. "The weather will inevitably have an impact," she said. "Technically we are heading for a triple-dip recession for construction."
The CPA has revised its forecasts down since the autumn, when it expected the industry to fall only 0.8% next year and start to grow in 2012. Now it is not predicting a return to growth until 2013.
The figures are gloomier than the government's, and estimate that construction output will not regain its 2007 peak of £108bn within the next five years.
The association now says the hoped-for private sector recovery will not be strong enough to avoid further overall falls: the 6% rise in private sector work predicted in the next two years is set against a public sector contraction of 17%.
This collapse will be led by public sector housing, with a reduction in starts of 40% over the next two years. Output in the education sector is also set to shrink by 46% over the next
three years.
Construction output on rail, however, will double by 2015 despite a drive for cost savings on major projects including Crossrail and Thameslink.
Michael Ankers, chief executive of the CPA, said: "The increase in construction output in 2010 has been an important component of the growth in GDP over the last two quarters. Unfortunately, these latest forecasts show that construction is unlikely to provide the same impetus over the next two years."