Bam, Turner & Townsend and Ramboll among firms currently working on continent
Contractors have been put on notice for a £500m framework for design and build construction projects in Antarctica.
The 10-year framework, which is being launched by government research group UK Research and Innovation (UKRI), will support British scientists working on the continent and surrounding islands.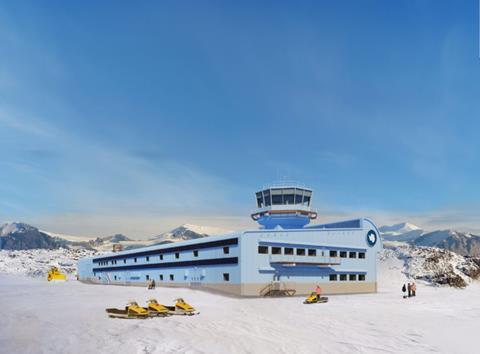 Jobs will include building laboratories, accommodation buildings, renewable energy installations, waste management facilities, warehouses, demolitions, scoping studies and upgrades to existing infrastructure such as communication towers.
Work will also include building a new or modified aircraft hangar and upgrading a landing strip at Rothera Research Station, the capital of the British Antarctic Territory, ahead of the arrival of a new aircraft which will support scientists working in the region.
Contractors are already working in Antarctica with Bam breaking ground on a new operations building at Rothera Research Station which will replace a series of outdated buildings.
The two-storey, 4,500 sq m Discovery Building, which was designed by Hugh Broughton Architects with Sweco as design consultant, uses an aerodynamic design oriented towards the prevailing Antarctic winds, which often exceed 100mph in winter.
All materials for the building, which has Ramboll and Turner & Townsend as technical advisors and is scheduled to complete by 2023, are transported to the site by ship.
In April, Bam also completed a £40m wharf at Rothera for the RSS David Attenborough, a £150m new ship commissioned in 2014 a public vote decided should be called Boaty McBoatface.
This was then followed by a £100m funding commitment announced by the government in 2017 for the British Antarctic Survey.
Contractors have been invited to a pre-market engagement webinar on 27 August where UKRI will provide more details of the framework and potential projects. A contract notice is expected to be published on 7 September.