Disqualified pair eye court date to continue in their roles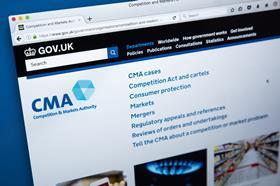 A Surrey-based fit-out contractor which saw three of its directors banned last week from running companies for a total of nine years has said it is going to court to get two of the bans lifted.
The Competition and Markets Authority imposed the disqualifications on Egham firm Fourfront which also has an office near London Bridge station.
Fourfront and subsidiary firms Area Sq and Cube Interior Solutions were hit with fines of £4.1m in March for breaking competition laws.
The firm was one of five which admitted to cover pricing on competitive tenders – where firms collude on the prices they bid jobs at.
In May, Trevor Hall, a former director of Cube Interior Solutions, was disqualified for two years and six months, while Oliver James Hammond, a former director of Area Sq, was hit with a two year ban.
Last week Fourfront was told three more of its executives were being banned, including its founder Clive Lucking along with chairman Aki Stamatis and London managing director Sion Davies.
But in a statement, signed by Fourfront's chief executive Gary Chandler, the firm said: "After our own internal review, we anticipated Clive's disqualification, however, we did not expect two other directors would also come under scrutiny.
"The CMA argued that Sion Davies and Aki Stamatis should have been aware that such infringements were occurring and taken measures to intervene. Our lawyers disputed these conclusions."
It said it had considered taking the CMA to court over its findings but decided the "ongoing reputational damage" of legal action meant it would accept the bans – known as competition disqualification undertakings.
But Chandler said Stamatis, who has been banned for two years and nine months, and Davies, who has been disqualified for 18 months, were applying to the court for dispensations, allowing them to continue as directors.
He added: "Sion and Aki have the full support of the business during this difficult period and will continue to perform their current roles whilst awaiting court dispensations." Any court hearing is set to be held in the autumn, while if the pair are successful they are likely to be subject to monitoring.
Chandler said that the firm's 300 staff had been issued with a copy of a new code of conduct and that client-facing staff had been given ethics training. "We have made [it] very clear to all our employees that we want our processes to be beyond reproach at every stage," he added.
Documents filed at Companies House show that Area Sq and Cube's parent company Fourfront Holdings posted a £146.5m turnover in the year to April 2018 with a pre-tax profit of £1.8m. Lucking, who has been banned as a director for four years and nine months, stepped down as a director at the beginning of March, Companies House records show.