New link road will unlock £100m of development opportunities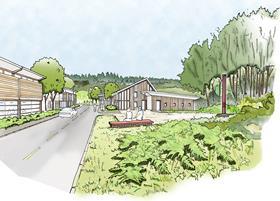 A long-standing £100m plan to revive a former mining town in the Forest Dean has taken a step forward following approval for a key link road.
Forest of Dean council has given permission to the Homes and Communities Agency's (HCA) planning application to build an access road to a new quarter it is developing on a derelict depot in the town of Cinderford.
The committee also granted consent for a 7,750m2 new campus for the Royal Gloucestershire College as well as outline permission for a hotel; 18,800m2 of employment and business space; 195 homes and a visitor information centre.
The masterplan for Cinderford's regeneration was first drawn up in 2006 by planning consultants Halcrow, now part of consultant CH2M Hill.
The HCA is currently searching for a partner to build the access road, which is designed to unlock the Northern Quarter site. The government has provisionally allocated £3.8m through its Growth Deal agreement with the area's local enterprise partnership to support future improvements to the Northern Quarter link road from 2016/17.
The HCA claims that the scheme, which was the subject of an unsuccessful High Court challenge earlier this year over claims that it would destroy a habitat for rare bats, will create around 1,000 new jobs to the district.
David Warburton, head of area for the HCA, told the committee that the project represented a "once in a generation opportunity" for the Forest of Dean.