Scottish energy business Wood says Richard Howson has resigned with "immediate effect"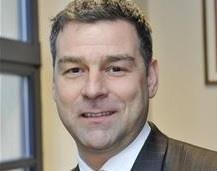 The fallout for former Carillion chief executive Richard Howson continued today with Wood Group tearing up his deal as a non-executive director at the business.
The FTSE 250 oil and gas firm, based in Aberdeen and which last year bought rival Amec Foster Wheeler for £2.2bn, said Howson had left the business earlier today.
In a statement, the firm said the 49-year-old, who was appointed in May 2016, had resigned as a non-executive director of the company with immediate effect.
Chairman Ian Marchant added: "I would like to thank Richard for his contribution over the last two years."
Howson (pictured), who quit Carillion last summer after nearly six years as chief executive, has become a pariah in the days since Carillion went bust.
Wood's annual report shows he attended seven meetings in 2016 and was paid £35,000.
Speaking about Carillion's collapse, and before news of Howson's departure from Wood became public, Cenkos analyst Kevin Cammack said the firm was becoming a byword for toxic. He added: "It's going down with such a stink about it. There's a lot of stigma attached to Carillion."
Wood was founded in 1982 by Ian Wood whose worth is estimated at £2bn.