Sir Terry Morgan makes explosive claim at London Assembly transport committee this morning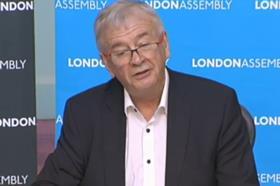 The ongoing row between London mayor Sadiq Khan and ousted Crossrail chairman Sir Terry Morgan about who knew what about the project's delay has cranked up with Morgan accusing Transport for London, which is chaired by Khan, of altering his progress reports on the scheme.
At an inquiry held by the London Assembly's transport committee this morning, Morgan (pictured), who fronted the committee separately from the other four people giving evidence, including new Crossrail chief executive Mark Wild, said the weekly reports he produced to update the mayor on the progress of Crossrail had been "routinely" altered by TfL.
Morgan brandished a report created on 9 June 2018, saying that sentences he had written referencing a lack of "sufficient time" to complete stages of the project had been removed by TfL.
Morgan said: "There is a paragraph which says: 'At the moment there is insufficient time to complete the testing required ahead of the joint trial running and trial operations from 1 October. This remains an area of serious attention and an improved plan to balance construction and testing time is being developed over the next few weeks'.
"That paragraph, in what was sent to the mayor, was deleted by TfL."
But deputy mayor for transport Heidi Alexander, who faced the committee during the second session of the inquiry, said she had "no reason to believe" that TfL had made changes to reports produced by Crossrail.
Alexander told committee members: "That is an assertion that Terry Morgan has made and actually what would need to happen is for him to provide evidence of that happening. Before we set a hare running with any of this, you should recognise that this is an assertion being made by Terry Morgan."
Morgan also hit back at earlier statements from Khan who said he thought Morgan was "misremembering" discussions between the pair around delays to Crossrail.
Morgan said: "I do not suffer from loss of memory. Do you really think when a piece of paper says 'delivery in 2018 is not feasible' that it is not what it is?"
Morgan, who did concede he now felt he had been too optimistic about when the scheme would finish, said the mayor's argument held no weight as there was no reason for him to say something different to what was written down.