Andrew Wolstenholme was criticised by politicians after it emerged scheme would miss opening deadline and be billions over budget
Laing O'Rourke has brought former Crossrail chief executive Andrew Wolstenholme back into frontline construction by making him the firm's group technical director.
The 62-year-old will report to group chief executive Ray O'Rourke when he starts his role next week and has also been appointed to the company's group executive committee.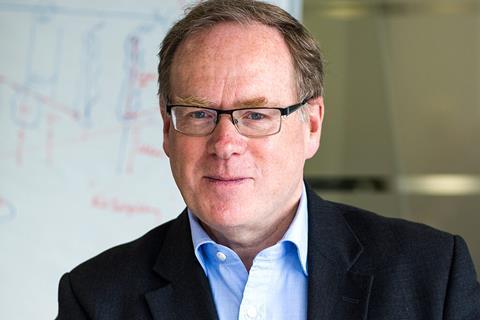 Ray O'Rourke said: "His knowledge of our sector will ensure our engineering and innovation are seamlessly integrated with operational discipline and client connectivity."
He replaces outgoing group digital and technical director Dr Damien Buie who joined the firm in September 2019 from energy giant EDF where he was based in Paris as the firm's chief digital officer.
Wolstenholme's appointment marks a return to a high-profile role in contracting more than three years after he left the Crossrail scheme, weeks later joining defence giant BAE as group managing director for maritime and land in the UK.
When he left the Crossrail scheme in March 2018, the project was still being described as "on time and on budget".
But at the end of August that year it emerged it would miss its original December 2018 opening date and since then has bust a series of deadlines and its £14.8bn budget has ballooned to £18.6bn.
Wolstenholme spent seven years at Crossrail, having picked up nearly £5m in pay during his time there.
At the time of his departure, transport secretary Chris Grayling said his time in charge of the railway "would leave a lasting legacy across the industry".
But two years ago, he was increasingly dragged into the firing line over why the scheme was so behind schedule – it will now not open until the first half of next year – having been required to appear in front of various inquiries demanding to know what had gone wrong.
In April 2019, he told the Public Accounts Committee that when he left Crossrail was on track to be delivered on time.
Later that month, Wolstenholme came under fire in a London Assembly report which said his decision to query why part of his bonus had not been paid was "symptomatic of a culture that, while encouraging unchecked optimism, has also encouraged a denial of responsibility".
And the former chair of the assembly's transport committee, Caroline Pidgeon, complained that "former chief executives who are supposed to be world experts leading on the project…I think they need to take more responsibility".
Prior to Crossrail, he was in charge of Heathrow airport's Terminal 5 and was also a non-executive director of HS2, which he left in April 2019 weeks after a deputy mayor at the London Assembly accused him of "misleading" it over when Crossrail would be ready.
According to documents filed at Companies House, Wolstenholme set up his own business called AWLW Consulting in October 2019.