'We have no dependency on Europe as a single market,' chairman says
Norman Foster has played down the impact of the UK's decision to leave the EU on the firm he founded nearly 50 years ago.
In his chairman's statement accompanying Foster & Partners' latest results, Foster indicated that he would have preferred to stay in the EU – but said the country's biggest architect did not need Europe for work.
He said: "I am frequently asked for my opinion about Brexit and how it might affect us.
"Without canvassing a vote across our studio my personal opinion is that by virtue of our cosmopolitan culture, we would be inclusive. Having said that our works are truly global in their spread and we have no dependency on Europe as a single market – even though it is a major source of the materials and components for many of our projects."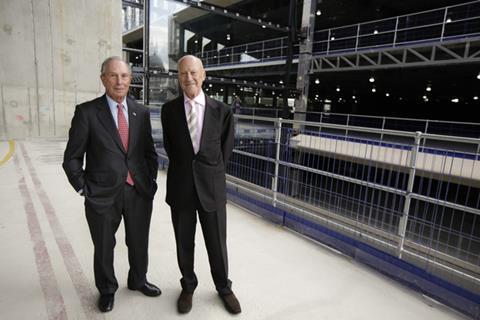 The company now employs close to 1,500 people – with 1,250 based at its London studio in Battersea which Foster calls "the mothership" – meaning staff numbers have gone up a third in just two years.
Foster said 35% of its Battersea staff are from the UK with 40% from the EU – with Spanish nationals accounting for a quarter of its EU staff. The remainder come from outside the UK and EU with the company employing staff from 72 countries in total.
Revenue at the business climbed past the £250 million mark with turnover rising a quarter to £257 million in the year to April 2016. But underlying profits slipped from £51.7 million to 41 million.
More than £150 million of its revenue comes from the Middle East and North America with its work from mainland Europe accounting for just 7% of business.
Workloads in the UK, which includes its work at the new Crossrail station and roof garden at London's Canary Wharf, slipped 13% to £24 million.
Foster's has five main overseas offices, including Abu Dhabi, New York and Shanghai, with another office due to open in Dubai next January, and Foster added: "Our global spread is the outcome of a conscious policy which we have built up over many years and which we will continue to nourish."
The firm paid out £5.7 million in performance related pay last year while its increased staff numbers saw its wage bill jump £8 million to £73 million. The salary of the highest-paid director, who is not named but is thought to be Foster himself, more than halved to £758,000 from £1.9 million last time.
Foster's said work had started on 55 of its projects in the past year including an art museum in Florida, a headquarters building for metal firm RMK in Russia and a new head office for news organisation Bloomberg in London.