Initiative will have been running over a year by the time it finishes
The government is extending its furlough scheme again this time until the end of March, the chancellor has said.
Rishi Sunak made the announcement in the House of Commons earlier this afternoon with the news meaning that the initiative, which sees the government pay 80% of people's wages up to £2,500 a month, will have run for more than a year by the time it is due to finish.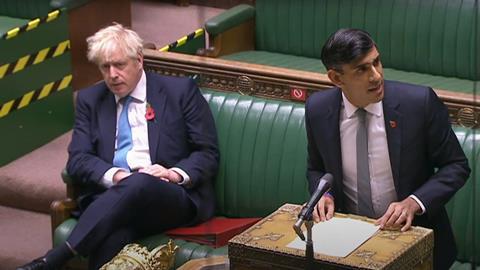 It was first announced in March this year and was given an initial expiry date of the end of May but this was extended by a month and then pushed back again to the end of October.
But last weekend prime minister Boris Johnson announced a second lockdown in England starting today (Thursday), adding that the furlough initiative would continue until 2 December – the date given for when the current lockdown ends.
That date is now in doubt given the chancellor told MPs he was extending it again – to the end of March.
Sunak said: "It's clear the economic effects are much longer lasting for businesses than the duration of any restrictions, which is why we have decided to go further with our support."
The chancellor also announced the next self-employed income support grant will also increase from 55% to 80% of average profits – up to £7,500.
He added: "Extending furlough and increasing our support for the self-employed will protect millions of jobs and give people and businesses the certainty they need over what will be a difficult winter"
Sunak said the initiative would be reviewed at the start of next year to see whether employers will be asked to contribute more to their employees' wages.
This morning, Morgan Sindall chief executive John Morgan told Building he doubted whether the initiative would have much impact on major contractors this time around.
"It's pretty irrelevant to construction," he said. "The government has made it clear that construction can continue."
And Ranjit Dhindsa, head of employment at London law firm Fieldfisher, said: "It's clear that this announcement seeks to help the sectors most affected by the new imposed lockdown but why doesn't the government just say that and do a targeted plan to help the sectors suffering the most?
"Businesses being able to re-employ recently made redundant staff to put them on furlough might seem attractive but, again, there is a high administrative cost to this as well as the ongoing cost that employers have to contribute. As it stands now, I don't see many businesses changing their mind and taking up this furlough extension."
According to Treasury figures, 30% of the UK workforce were accessing the furlough scheme at its peak in May while the amount shelled out by government under the initiative for the period up to 31 August, the date for the latest available data, was £37.5bn.