Contractor launches £3.6m counterclaim against cladding firm Prater, citing 'defective' work and 'delays'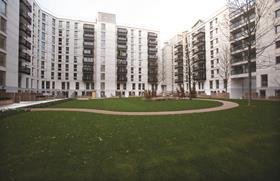 Galliford Try has hit back at cladding subcontractor Prater with a £3.6m counterclaim in the firms' High Court battle over losses as a result of delays to the construction of the London 2012 athletes village.
Galliford Try lodged its defence and counterclaim with the High Court this month, in response to a £4.4m claim lodged against it by Prater in November.
Prater claimed Galliford Try "presided over a chaotic and shambolic site", causing delays and losses to Prater. But in its defence and counterclaim Galliford Try contends Prater was responsible for its own delays and losses and further claims the subcontractor's "delayed" and "defective" work caused delays and losses for Galliford Try.
The claims relate to delays on the final two plots of the athletes village, N13 and N26, where Galliford Try was the main contractor. The plots were together worth £80m and comprised 14 blocks and 423 units, according to construction analyst Barbour ABI.
Prater, which says its contract was worth £11.3m, is the second subcontractor to lodge a High Court claim against Galliford Try relating to delays on the job, after concrete subcontractor Reddington filed a £6.8m claim against Galliford Try in the summer of 2012.
Galliford Try hit back against Reddington in November 2012 with a £7.7m counterclaim, alleging the delays were in fact caused by Reddington. That case is scheduled to be heard this June.
Galliford Try's athletes village job hit delays from the outset, including a 19-day site shutdown to investigate an accident shortly after construction began in summer 2010.
Overall construction manager Lend Lease eventually handed over the two plots to the Olympic Delivery Authority six weeks late in December 2011.
In its defence and counterclaim, Galliford Try alleges Prater was responsible for delays to its own works after "delays to the procurement of the [cladding] tiles" and "failure […] to install them regularly and diligently".
Galliford Try denies Prater's claim for loss and expense of £1m and accepts only £1.1m of the £4.3m the subcontractor claims for variations, with the contractor arguing that it in fact overpaid Prater for its works by £74,000.
In addition to this figure, Galliford Try claims £2.9m for delay and disruption costs, £363,000 for remedial works and £191,000 for contra-charges.
Galliford Try admits concrete subcontractor Reddington, whose work preceded Prater, handed over its works late, but denies this affected Prater's ability to meet a revised and agreed schedule for its works because of the "greater delays in the procurement of the tiles".
Galliford Try denies Prater's claim that it ordered a "late change" to install the facade from top down rather than bottom up and says the change was "requested" by Prater.
Galliford Try also argues it was "always [its] intention" to allow internal trades to access the blocks via external temporary staircases and this did not delay Prater's works, contrary to Prater's claim.
The firm also denied Prater's "vague and woolly criticisms of [its] management".
Galliford Try and Prater declined to comment.