Garden Bridge working group chair says there are plenty of reasons it may not have been a reasonable decision
The man running the London Assembly's inquiry into the failed Garden Bridge project has accused the trustees of the charity of handing Bouygues £21m "in an attempt to push the project through".
Tom Copley, who chairs the Assembly's Garden Bridge working group, said he found it "extremely disappointing" that the Charity Commission had decided to not further investigate the role of the Garden Bridge trustees.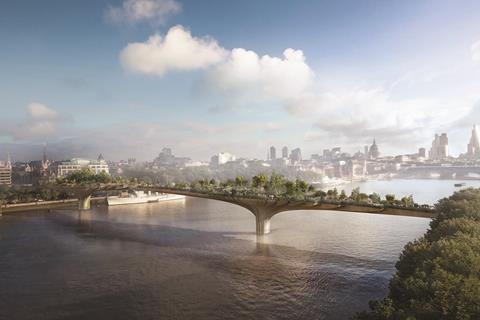 In his response to the Charity Commissions report on the project, Copley said: "Their [trustees] decision to sign a construction contract in an attempt to push this project through, despite not having even secured the land on the south bank to build it on, nor the necessary planning consents, cost the taxpayer £21m.
"Londoners may raise their eyebrows at the Commission's conclusion that this was a reasonable decision."
TfL published a detailed breakdown of the final expenditure of the Garden Bridge Trust in February which revealed Bouygues had been paid £21m despite never starting work on the scheme.
The Bouygues team was paid £18m for the main contract and pre-construction works which included "the selection of tree and landscaping species within Europe and transportation of these for acclimatisation to the UK".
And it was paid a further £2.1m in termination costs while other fees included recouping the £20,651 it spent to lay a new garden as part of the project's community involvement programme.
Copley conceded that the trustees were "far from the only ones to blame for this fiasco" and said that the Assembly would continue to investigate the "myriad of failings surrounding the Garden Bridge".
He said: "As the Commission points out, it's now incumbent on the National Audit Office, Public Accounts Committee and TfL to look deeper into how the Trust handled public funds. But when it comes to seeking clarity around this murky project on behalf of London's taxpayers, the Assembly will not drop the mantle."
He said the Garden Bridge working group would question TfL over its role in the saga.
Designed by Heatherwick Studio, London mayor Sadiq Khan pulled the plug on the £175m scheme in 2017 after deciding no more public money could be lavished on the project.