The Conservative party has swept to victory, securing a 79-seat majority – so what is the party promising construction?
What are the Conservatives promising?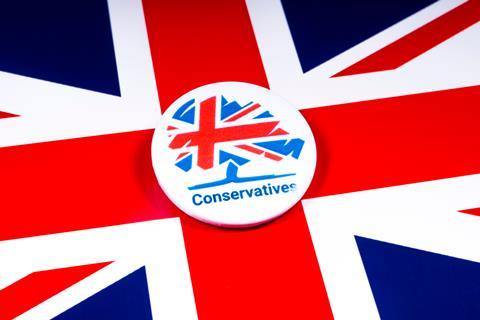 Housing policy
The Conservatives will offer tenants in new housing association properties the right to shared ownership of their home.
They intend to extend the Help to Buy scheme from 2021 to 2023 and have a target to create 300,000 homes a year by the mid-2020s.
The Conservatives will amend planning rules so that the infrastructure – roads, schools, GP surgeries – comes before people move into new homes, and their new £10bn Single Housing Infrastructure Fund will speed up the process.
The party will invest £6.3bn for environmental upgrades to homes, such as grants for improving boilers and insulation.
Infrastructure policy
The Conservatives intend to invest £100bn over five years on road, rail and other infrastructure.
A new Conservative government would provide an additional £500m into EV charging infrastructure and new electric vehicles, ensuring there was a chargepoint within 30 miles of each home in England and Wales.
In terms of transport, the Conservatives plan to build the Northern Powerhouse, invest in the Midlands Rail Hub, improve train lines to the South-west and East Anglia, extend contactless pay-as-you-go ticketing to almost 200 more stations in the South Eastand restore many of the Beeching lines.
The party have promised to commit more than £4bn to a fund public transport in the Midlands and the North.
Plus, the party will give city regions the funding to upgrade their bus, tram and train services to make them as good as London's and they plan to invest £28.8bn in strategic and local roads, as well as invest £2bn in dealing with potholes.
The Conservatives have expressed their support for a third runway at Heathrow and will consider the findings of the Oakervee review to assess the optimal outcome for the development of HS2.
Boris Johnson says there is "substantial doubt" over whether the Heathrow's operators could meet the criteria he has set for it in his party's manifesto to allow for the expansion to continue. He singled out air quality and noise pollution targets. He also said he "guessed" the scheme.
Sustainability policy
The Conservatives have stated initiatives towards a net zero target on carbon emissions by 2050.
They plan to prioritise the environment in the next budget, investing in the infrastructure, science and research that will deliver economic growth, not just through the 2020s but also for later years.
The Conservatives plan to help lower energy bills by investing £9.2bn in the energy efficiency of homes, schools and hospitals.
Immigration policy
In a Sunday Times interview Boris Johnson says while unskilled workers will be eligible for short-term visas in sectors where there are employee shortages under those visas, "there is no pathway to residency."
The Migration Advisory Committee would be given boosted powers to set visa quotas for certain sectors.
Entrepreneurs, investors and highly qualified graduates will have their visas fast-tracked, even if they don't have firm job offers.
Questioned on Sky about whether an Australian-style points system could lead to immigration increasing, Boris Johnson said "it depends how you apply it," and said he will "make sure that numbers come down."
Other public spending that will impact construction
The Conservative party plans to invest £2.7bn for six new hospitals and has plans for 34 more over the next 10 years.
Johnson has pledged to introduce tax breaks for the construction and research and development industries.
There have been no specific promises regarding new legislation to address late payments/retentions - the failed Aldous and Abrahams bills were both left out of October's Queen's speech - but a new bill which combines the two is expected to emerge in the new year.
>> Anaylsis: What does construction need from the 2019 general election?