Calls come as worries grow about new PM's commitment to schemes like HS2 and Heathrow expansion
New prime minister Boris Johnson has been told to stick to existing government policy on schemes like HS2 and expanding Heathrow Airport when he formally takes over the keys to 10 Downing Street tomorrow.
The former London mayor – whose Foster + Partners-designed plans for an alternative to Heathrow off the Kent coast dubbed 'Boris Island' were dumped four years ago by a commission into expanding the country's airports capacity – beat remaining leadership rival, foreign secretary Jeremy Hunt, to become the country's new prime minister.
Johnson will formally succeed outgoing PM Theresa May tomorrow with the industry wanting to know what his plans are for the huge infrastructure schemes being planned in the coming years.
He has said he will look again at HS2 and has reportedly drawn up plans for a review of the project with ex-HS2 chairman Douglas Oakervee tipped to lead the assessment.
In recent weeks, the bosses of a number of consultants have told Johnson to quickly back plans for schemes such as HS2 and Heathrow Airport – another scheme Johnson has expressed doubts over given he has previously promised to "lie down in front of bulldozers" to stop a third runway being built.
Atkins' new president Philip Hoare said: "These megaprojects don't fit into a parliamentary calendar, so it really is imperative that big projects have all-party support. They transcend politics.
"It is vital that the government commits to long-term expenditure on infrastructure."
And this week Turner & Townsend's chief executive Vince Clancy said: "From a UK plc point of view, we've got to invest in infrastructure. We do need these schemes to progress, whichever government we get."
Aecom's UK & Ireland chief executive David Barwell said Johnson's election gave him the "perfect opportunity" to back investment in infrastructure.
He said: "I was extremely pleased to hear the promise of 'better infrastructure' in Johnson's acceptance speech and regardless of Brexit I would suggest a starting point for his plan to 'energize the country' would be to fully endorse schemes such as HS2, Crossrail 2, Northern Powerhouse Rail and Heathrow's expansion. All of which must proceed if we are to maintain our country's ability to compete on a global stage."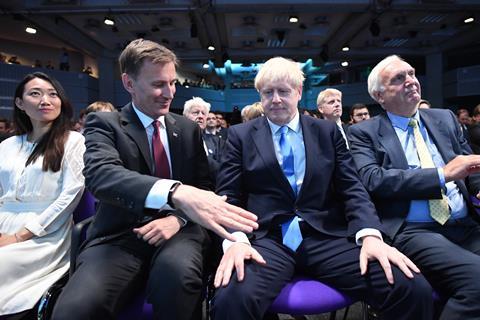 RIBA president Ben Derbyshire again warned that Johnson's threat of a no-deal Brexit would have terrible consequences for the construction sector.
Derbyshire, who is also chair of HTA, said: "It would be a disaster for the development industry and homebuilding especially, with massive disruption to finance, the supply chain and movement of labour."
And Melanie Leech, chief executive of the British Property Federation, told him to make a deal with the EU.
She said: "The UK must remain open, with the right conditions for investment and trade, to ensure we remain first choice for global talent as a place to live, study and work."
Scape group chief executive Mark Robinson added: "The country would benefit from certainty and crashing out without a [Brexit] deal isn't going to provide this."
Johnson received two thirds of the vote of the 159,000 Tory party members who voted. Turnout was 87%.