Firm looking to increase share of infrastructure work in coming years
Gleeds has become the next consultant to outline ambitious growth plans with the firm saying it wants to double turnover and staff numbers over the next four years.
The target is the most ambitious in its 136-year history with Gleeds looking to see turnover increase to £400m by the end of 2024 with staff numbers during the period jumping to 4,000.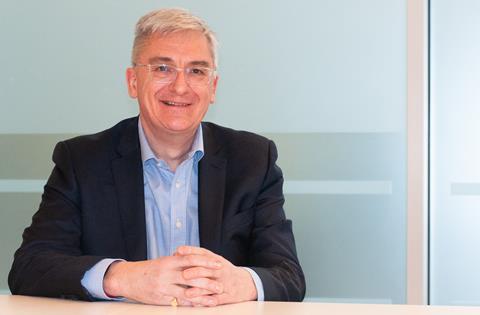 Earlier this year, Mace said its consulting business was also embarking on a recruitment drive with the firm looking for 1,300 more staff over the next five years under plans to grow turnover 40% to £500m by 2026.
Gleeds' plans will also mean a sea-change for a business where traditionally more than 90% of its work in the UK has been in buildings – but this is now expected to drop to around three-quarters as the firm takes on more infrastructure work.
Last year, Gleeds brought former WYG chief executive Douglas McCormick back to the business more than 25 years after he left, initially as executive chairman.
But his role has now changed to executive director and, along with global chief executive Graham Harle and chairman Richard Steer, the former Sweett chief executive has drawn up a strategy which is expected to see the firm's business more equally spread between the UK and overseas with moves to grow income especially in the US, Germany and Australia.
Current turnover is split 60:40 in favour of the UK but McCormick said he expected this to fall back as the firm's overseas work grows with 1,500 of the extra 2,000 jobs due to come from outside the UK.
Closer to home, the firm is eyeing more work in infrastructure and McCormick admitted: "Infrastructure is clearly a place to be with things likes HS2 and other rail projects. Add in roads and ports, I suspect aviation will come back as well, and infrastructure is a sector we need to pay attention to."
McCormick, who was also previously the managing director of Atkins' UK rail arm, said less than 5% of the Gleeds business in the UK is from infrastructure but added this will grow to 25% under its strategy.
Last year, the firm won a cost management role on the first phase of the HS2 railway between London and Birmingham as part of a team that includes Arcadis and Gardiner & Theobald.
More than half of the group's £200m hike in revenue is still expected to come from the UK but McCormick said it was looking at expanding in the US – where it has 160 people working out of New York and Atlanta – with extra offices and more work in the infrastructure and energy sectors planned.
"A key growth area is the US," McCormick confirmed. "We have a very small presence there and I'd like it to be 300-400 [people] but that might take longer than 2024."
Its presence in Australia is limited to a base in Brisbane but it wants to open outposts in Sydney and Melbourne while in Europe the firm is looking at doubling numbers in Germany to 200 people.
Gleeds currently has 20 offices in the UK, which McCormick said he doesn't expect to add to, with its worldwide number, including the UK, standing at 73.