Firm carrying out job for tech giant under construction management deal 
Lendlease has said it is carrying out its most high-profile job in London under a construction management deal as the firm announced improved profit and margins at its UK business.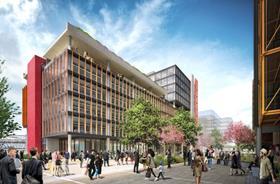 The contractor began work on the Google headquarters scheme in King's Cross earlier this year after beating a high-profile shortlist to the scheme in early 2017.
Tom Mackellar, the firm's chief financial officer for Europe, said the job is being built under a CM contract but added "it might get converted into a fixed price over time".
The job is believed to have a £650m pricetag but Mackellar declined to comment on its value or when it would be finished.
Google has shrouded the scheme in secrecy – despite its central London location – so much so that it is only officially known on site hoardings as KGX1.
Asked why the job might eventually switch to fixed price, Mackellar said: "It would be driven by what our client wants."
The deal marked a return to mainstream contracting for Lendlease with the firm appearing on more shortlists for high-profile jobs such as the £300m 6-8 Bishopsgate tower in the City and carrying out work in London and Manchester, a traditional stronghold.
Mackellar said the firm has a pipeline of work in the UK of £865m – up from £490m last year – and added: "A significant amount of new work is construction management. Achieving this balance between fee and risk work has been key to this year's positive results."
Gross profit was up 8% to £48.4m with EBITDA margins up from 2.8% to 3.3%. Revenue was down from £670m to £389m but Mackellar said it didn't include its CM work on this figure, adding that UK revenue was broadly the same as last year.
Neil Martin, the managing director of Lendlease Europe's construction arm, said: "Our tight control on costs has led to further growth in gross profit for Lendlease's construction business. Our focus on profitability rather than revenue has led to further growth in gross profit for Lendlease's construction business."
Lendlease is also carrying out work for its development arm at the Richard Rogers-designed International Quarter London scheme (pictured) in Stratford and Mackeller said the split between work for its development arm and external clients "hovers between 60:40 either way. There's not an optimal mix."
Mackellar declined to comment on its next move in its row with Haringey council after the authority last month dumped a plan to build more than 6,000 homes in the borough. Lendlease was preferred bidder for the work and the firm has previously said it is looking at legal action in order to recoup the money it has spent on the abandoned project.
The Lendlease group, which is listed on the Australian Stock Exchange, reported a profit after tax of AUD$792.8m (£452m) in the year to June 2018. Revenue was flat at AUD$16.6bn (£9.5bn).