Railway will now finish in 2022
The Department for Transport and Transport for London have again vented their frustration at continued slips to the £19bn programme.
Minutes from the September sponsor board meeting, which have just been published, reveal increasing exasperation at the DfT and TfL with more work falling behind.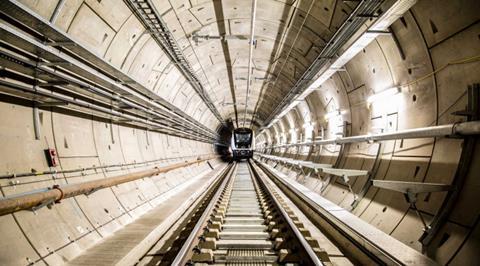 The papers said: "Sponsors [Dft and TfL] raised their frustration that the schedule continues to show slippage.
"Despite rebaselining the schedule performance graph to reflect [Crossrail's latest delivery control schedule] dates, one milestone related to the safety justification for signalling was already showing delays and sponsors agreed to raise this with Crossrail. "
A safety justification is a documented body of evidence that provides a demonstrable and valid argument that a system is adequately safe.
In response, Crossrail said it had come up with a plan to combat this by ensuring that each safety justification had a lead reviewer to coordinate inputs and comments.
It said this would help keep the reviews focused on key issues that need to be addressed.
The papers also revealed that novation of the contracts required to complete Bond Street, following the cancellation of main contractor Costain/Skanska's contract earlier this year, had been delayed.
It said: "[Novation is] now completed, although this is six weeks later than planned.
"Sponsors enquired as to the extent Crossrail expect that the revised plan for Bond Street will have an impact on cost, to which Crossrail updated that they anticipate that the current AFCDC [anticipated final Crossrail direct cost] allowance would be sufficient."
Crossrail was originally supposed to open in December 2018, with the first delays to the project only confirmed in August of that year.
Since then the completion of the project has been pushed back several times and is now due to be finished in the first half of 2022.