Independent Panel on Foresty back councils' use of planning law to drive increase in timber buildings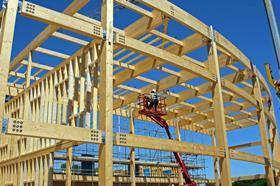 A government-commissioned report has backed controversial proposals that councils adopt a 'wood first' planning policy for construction projects.
In May, Hackney council became the first local authority to propose introducing a 'wood first' planning policy, which would favour timber buildings being built in the borough.
But trade body Modern Masonry Alliance and development organisation the Concrete Centre denounced the move as ill-considered and a leading construction lawyer has said such criteria would be open to legal challenge.
But the report by the Independent Panel on Forestry, commissioned by the Department for Environment, Food and Rural Affairs, said: "Local Authorities should use their Local Plans to introduce a 'wood first' policy for construction projects to increase use of wood in buildings."
It said the move was important to green the supply chain and promote greater use of wood across industries.
David Hopkins, chief executive of campaign group Wood for Good, said: "Greater demand for timber products from the nation's construction sector will see more forest planted and in turn, a greater amount of CO2 absorbed from the atmosphere.
He added: "Just a four per cent increase in our forest cover would absorb 10 per cent of all of the UK's carbon emissions in a single year which can then be stored in timber products. Local authorities can use their powers to encourage more sustainable development and help Britain to reach its carbon reduction commitments in the most cost effective manner."
Hackney council is set to decide on whether to adopt such a policy later this year.