Not a single starter home has been delivered using special £2.3bn fund established for the purpose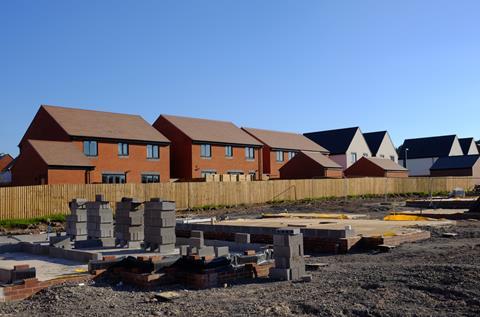 The government has been lambasted by the chair of the Public Accounts Committee (PAC) of MPs after it emerged that despite promising five years ago to spend £2bn building 60,000 starter homes no such housing has actually been delivered.
A report by the National Audit Office (NAO) said that plans to create 200,000 starter homes for first-time buyers had come to nothing, and that the £2.3bn – including a £1.2bn brownfield fund – proposed in the November 2015 Spending Review to deliver 60,000 such homes instead ended up being spent on other residential programmes, including affordable housing.
The government had wanted a fifth of new homes being built under its original starter homes proposals to be such housing.
Speaking about the NAO's findings Meg Hillier, Labour MP and PAC chair, said: "Since 2010 many housing programmes announced with much fanfare have fallen away with money then recycled into the next announcement.
"The [government] needs to focus on delivery and not raise, and then dash, peoples' expectations," she added.
The NAO report said that between 2015 and last year the Ministry of Housing, Communities and Local Government (MHCLG) had spent £174m "acquiring and preparing sites originally intended for building starter homes".
But the legislation and planning guidance covering the delivery of the starter homes had not been presented to MPs, and the MHCLG "no longer has a budget dedicated to the delivery of starter homes".
And while some developers marketed discounted homes as "starter homes" as part of their contribution to affordable housing, the NAO said such properties "do not necessarily conform to all the intended requirements of starter homes as defined in the Housing and Planning Act of 2016".
At the Conservative party conference in 2014 the then-prime minister David Cameron pledged that if his party won the 2015 general election 100,000 new homes would be offered to first-time buyers under the age of 40 at a discount of 20%.
And the party's 2015 election manifesto went further, promising 200,000 starter homes would be built by 2020.
Following the Conservatives' victory funding of £2.3bn, designed to deliver 60,000 of these homes, was outlined in then-chancellor of the exchequer Philip Hammond's spending review in November 2015.
Rico Wojtulewicz, head of housing and planning policy at the House Builders Association, said: "Only last week we tried to make contact with Homes England about starter homes and we now know why we didn't get a response.
"The government has failed to deliver on a key promise that industry had planned for. They must either deliver or kill this policy, or they risk further damaging small and medium sized builders."
Responding to the critical report an MHCLG spokesperson said: "We are committed to building more homes and supporting people into home ownership. We have a great track record and house building is at its highest level for all but one of the last 30 years, with 222,000 homes delivered last year, and 1.3 million in total since 2010, including over 430,000 affordable homes."
"The number of first time buyers is currently at an 11-year annual high, and over 560,000 households have been helped into home ownership through government schemes like Help to Buy and Right to Buy."