Institute of Civil Engineers calls for government to narrow focus of its infrastructure plan to a concise list of priority projects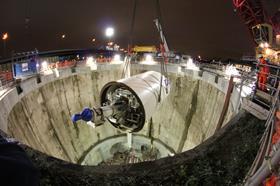 The government must narrow the focus of its infrastructure plan to a concise list of priority projects and step up efforts to ensure the schemes are delivered, the Institute of Civil Engineers has said.
In a paper submitted to Infrastructure UK, the Treasury unit in charge of the government's National Infrastructure Plan (NIP), the ICE called for the government to move away from rhetoric and into "delivery mode" over its infrastructure plan.
The ICE fears inaction may undermine confidence in the effectiveness of the plan.
The ICE said that one of the key issues was that the NIP's priority projects list, billed as a Top 40, actually comprises over 500 individual projects due to the inclusion of programmes of work.
The next NIP, due to be published alongside the autumn statement, should have a more concise list aligned with the UK's strategic goals, the ICE said.
The ICE also called for the swift passage of Electricity Market Reform legislation to drive investment in energy infrastructure.
Reforming the energy sector is "arguably the most important national strategic requirement covered in the NIP," according to the ICE.
The ICE also called for the quick introduction of legislation to end irregular investment patterns in British roads.
ICE director general Nick Baveystock said: "The NIP has a critical role in enabling the UK to compete in a modern world, creating jobs and growth and providing the stability for the UK to grow its engineering skills and capacity.
"The first two editions set out a much needed and welcome vision for UK infrastructure, but the need for it to evolve into a robust and focussed delivery plan is growing.
"The next version of the NIP should clearly identify those projects which are of genuine strategic significance in delivering long term improvements to the UK's economic performance and quality of life, and pave the way for their fast delivery.
"It should also set out - for the delivery of each priority project - government's role, an accountable minister or official and clear progress on delivery."
"The current Top 40 project list was a step in the right direction but is too broad and projects are not set against clear strategic goals that could be achieved through their delivery."