New report outlines ways the government can attract more private investment
The government must try harder to attract private investors to help it achieve its infrastructure building promises, the Confederation of British Industry has said.
In a new report, the Confederation of British Industry (CBI) said the financial strain put on the Treasury by covid-19 must not be allowed to derail the government's infrastructure spending ambitions - and urged private investors to step in to make sure major schemes get built.
The paper, called Investing in Infrastructure, recommended the government create a UK infrastructure bank to support major projects if the UK's Brexit negotiations with the EU lead to it pulling out of the European Investment Bank - which provides funding for such projects.
It outlined the proposed new bank's role of "crowding in private finance by reducing risks, promoting market stability, and increasing investor confidence".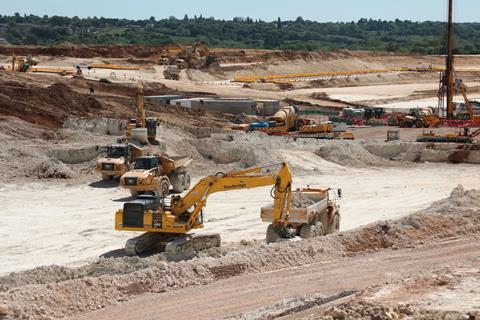 Matthew Fell, CBI chief policy director, said: "While the UK government's commitment to delivering infrastructure remains undeterred, the country's fiscal position has substantially worsened.
"In this context, the private sector now has an even more important role to play in helping to bridge the funding gap needed to deliver the government's vision for UK infrastructure."
In its 11 March budget - less than two weeks before the lockdown order was issued on 23 March - the government pledged £640bn for infrastructure, which the Treasury said was the biggest real terms investment since 1955.
Other recommendations in the report included handing more powers to government agencies the National Infrastructure Commission and the Infrastructure and Project Authority to give them greater freedom to hold the government to account on infrastructure spending.
It also urged the government to reform the national infrastructure and construction pipeline - a yearly list of planned infrastructure and construction investments across the public and private sectors - to make it clearer to private investors which projects the government is seeking private investment for.
Many firms see the current pipeline as confusing according to the CBI.
As a template for how the UK's pipeline could be reformed, the report mentioned Australia's user-friendly pipeline, which distinguishes between projects which are still in planning stages and those which have a business case and approval from the Australian government's infrastructure agency.
Fell warned: "To support its ambitious infrastructure agenda and provide better connectivity, at good value for taxpayers, the government must reinvigorate the UK infrastructure market tackling concerns about regulation and a lack of clarity about investment opportunities.
"The government must commit to an approach that gives confidence to investors and capitalises on the attributes of businesses and public sector establishing itself once again as a world class destination for investment."