Housing associations warn that poorest will lose out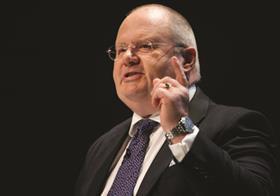 New rules that mean developers of small schemes will no longer have to incorporate affordable homes are a 'hammer blow' for those in the greatest housing need, social landlords have warned.
The government announced on Monday that developers of schemes of 10 homes or fewer will no longer be required to ensure that a proportion is earmarked for low cost housing.
The new exemptions will not apply in designated rural areas, where the vast bulk of new housing is delivered on small plots. But they will apply to self-build homes, extensions and annexes.
Announcing the decision, Eric Pickles, secretary of state for communities and local government (pictured), branded the charges as a 'stealth tax' on new housing. He estimated that the relaxation of existing requirements will save, on average, £15,000 in section 106 charges per dwelling in England.
Pickles said: "This will also be a massive boost to the self-build and custom-build sector. Overnight in many parts of England, it will be cheaper to build an extension, a family annex or just build your own home. Our long-term economic plan is helping hard-working people."
But the government's move was condemned by the National Housing Federation, the umbrella body for social landlords.
Rachel Fisher, head of policy at the NHF, urged the government to rethink its new policy. She said: "This announcement is yet another hammer blow to the 1.7 million households currently waiting for social housing across the country, particularly people living in rural communities and regeneration areas.
"Any measure which reduces the number of new affordable homes being built is still fundamentally wrong and will impact on families most in need. Perversely, it could also lead to some developers building fewer homes on smaller sites to avoid having to pay for affordable homes."