Greg Clarke says it was a "generous package of potential support"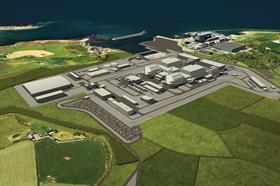 The government has revealed it was willing to take a one-third equity stake in a new nuclear plant Wylfa Newydd and would have provided all required debt financing to complete its construction.
Japanese conglomerate Hitatchi suspended the project this morning after failing to find enough private-sector backers or agree a workable deal with the British government.
But in an update to parliament business minister Greg Clarke said the UK offered "a significant and generous package of potential support that goes beyond what any government has been willing to consider in the past".
Clarke said Hitatchi was offered a 'strike price' – a promised rate per output – of £75 per megawatt hour for electricity fed into the grid.
While Hinkley Point C has a strike price of £92.50 per megawatt hour, Clarke told the house this would have been too high for Wylfa as renewable technologies had become cheaper, and the government was already offering other financial support.
The business secretary said that while Hitatchi have suspended operations, "they wish to continue discussions with the government on bringing forward new nuclear projects at both Wylfa and Oldbury, and we intend to work closely with them in the weeks and months ahead".
Clarke also said the government's assessment of whether an regulated asset base model could be used to finance new nuclear plants would be published by summer at the latest.
He reiterated the government's commitment to nuclear as part of a future energy mix despite the price of renewables such as off-shore wind having "fallen dramatically, to the point where they now require very little public subsidy and will soon require none".