Industry figures says uncertainty is bad for growth and risks undermining zero-carbon homes agenda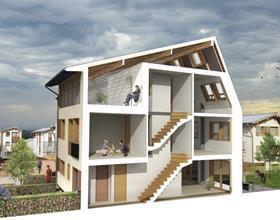 The government's "dither" and delay in setting out its proposed changes to Part L of the Building Regulations is causing uncertainty and risks undermining the zero-carbon home agenda, industry figures have warned.
As Building revealed last week, the delay to the publication of revisions to Part L of the Building Regulations - which the government said it would publish in May - could put back implementation of the changes by up to six month.
The Part L regulations set out the energy efficiency requirements for buildings and industry figures fear the delay will make it difficult to introduce the zero-carbon homes requirement in 2016 - a key part of the government's commitment to cut the UK's carbon emissions.
This week Paul King, chief executive of the UK Green Building Council, said the industry was still "in the dark about the future direction of this essential policy".
"What builders need is certainty - and this is anything but. While the coalition continues to dither over zero carbon, product manufacturers and the supply chain are losing out, putting jobs and much needed growth in the construction sector at risk," he said.
WSP's sustainability director David Bownass said: "The delay only adds to the uncertainty and undermines the government's own ambitions for growth through construction."
Andrew Warren, director of the Association for the Conservation of Energy, said the delay, coming over a year after the closure of the government's consultation in April 2012, was "ludicrous". "The government is still unable to tell the building industry either what they plan to do nor when they plan to do it, regarding upgrading minimum energy standards," he said.
Labour's shadow housing minister Jack Dromey slammed the delay, arguing the uncertainty for businesses was undermining the zero-carbon homes agenda. "It's holding back house building, hitting growth and jobs," he said.
"To plan for the future, house builders and businesses throughout the supply chain need urgent clarity on what changes will be made to energy efficiency standards and clarity on the allowable solutions policy."
Building's Green for Growth campaign calls on the government immediately to clarify a realistic trajectory to zero carbon all new buildings, including setting out it Part L proposals.