European Commission demands UK impose more provisions to recover taxpayers' money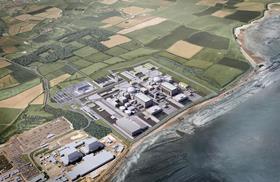 Savings from the construction EDF's £16bn Hinkley Point nuclear plant could be clawed back by the government under terms of the funding deal for the plant, according to a report in the Financial Times reports.
The government currently has a deal with EDF to support the price it can charge for electricity from the plant but the FT reports it has had to insert tougher clauses to claw back tax payers money to get European approval for the deal.
The UK government and EDF's deal, called a "contract for difference", was agreed last October and guarantees that EDF will be paid £92.60/MWh for the electricity from the plant for 35 years, which is roughly twice the current wholesale price of power.
But the project has been stuck in limbo after the deal was referred to the Brussels to check it complied with state aid rules in December.
Last month a spokesman for European Union competition commissioner Joaquín Almunia said "discussions with the UK authorities" had "led to an agreement" and he would recommend that the deal was approved.
This morning the FT reported that EDF and the government have had to insert tough "gain share" mechanisms into the deal to reach this point.
It reported that the government will get half of the first £1bn of gains from construction, rising to 75% of any gains above £1bn.
The paper also reports the government will not be able to claw back 30% of any gains above the forecast 11.5% rate of return EDF is expected to make on its investment.
Both the Department of Energy and Climate Change and EDF declined to comment.