MPs leading inquiry into bust firm want to know why risk assessment used old figures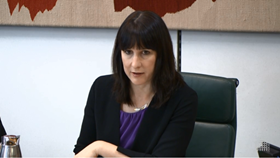 The chairs of the joint inquiry into Carillion's collapse have written to the cabinet secretary with concerns about the way government carries out risk assessments for public sector jobs.
Business chair Rachel Reeves (pictured) and her counterpart at the work and pensions committee Frank Field have written to David Lidington wanting to know what financial health checks on Carillion were carried out.
The cost to the public purse of the collapse has yet to be totalled but the company left billions of pounds of debt and liabilities, with the costs of administering the company's insolvency also being paid for by the taxpayer.
The letter to Lidington expressed concern at the scope of the risk assessments carried out – limited only to contracts directly involving central government – and based on old accounts.
Reeves and Field asked: "The financial data used in these risk assessments appears to be out of date. The September 2016 assessment is still quoting Carillion's total revenue figure from the 2014 accounts despite the 2015 accounts having been published back in March 2016. Is this an isolated case or are all strategic supplier risk assessments based on out of date financial data?"
In its recent report into the collapse of Carillion, the joint inquiry labelled government's Crown Representative system as "semi-professional and part-time", saying it had provided little warning of the risks at Carillion.
The report said: "The assignment of a Crown Representative to Carillion served no noticeable purpose in alerting the government to potential issues in advance of company's July 2017 profit warning. The absence of one between August and November 2017 cannot have increased the government's ability to keep itself informed of the direction of the company during a critical period before its collapse."
Last week the Public Accounts Committee rebuked government for its failure to recognise and act on Carillion's financial distress earlier.
The PAC called into question the way government manages its relationships with strategic suppliers and the potential impact on the delivery of public services.