Procurement of PSBP 2 will not begin until end of this year, sources close to programme claim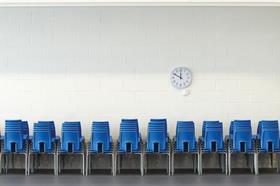 The government will not start procurement of the £2bn second phase of the Priority School Building Programme until the end of the year, Building has learned.
Two separate sources close to the programme (PSBP 2) have said procurement, launched in May 2014 by then schools minister David Laws, will now be put back until October or even November.
When the programme was launched, Laws said it would run from 2015 to 2021 and the Education Funding Agency (EFA) briefed its supply chain to expect the first schools to come to market in September last year.
Building then reported in November that procurement of PSBP 2 had been put back until at least June or July this year, with spring then seen as the earliest date.
While there have been delays to the start of PSBP 2 procurement, the 277-school programme is still expected to be completed by 2021.
One source told Building: "The government has been clever enough not to say when it would [officially] start [the programme].
"But procurement has been pushed back - though overall it should still finish on time. Once it gets going, it will move quite quickly, like PSBP 1."
A spokesperson for the Department for Education said there was "no delay" to PSBP 2, and insisted that the time it had taken for schools to come to market was a "perfectly normal way of doing things".
One of the sources said all of the schools in PSBP 2 would be funded by the EFA for now, but suggested some could be privately financed in future, adding: "At the moment, they are all directly funded schools but, down the line, there may be some PFI."
Under PSBP 1, five batches comprising 46 schools are being delivered through PF2 private funding.
An EFA spokesperson added: "To be clear, PSBP 2 has not been delayed. Since the programme entered the delivery phase in January 2016, the Education Funding Agency has started work at over 100 schools.
"The £4.4 billion Priority School Building Programme (PSBP) is transforming some of the most run-down schools in the country, ensuring young people are being taught in an environment where they can fulfil their potential.
"The first PSBP school opened five months earlier than originally planned and we expect to hand over the majority of the new or refurbished buildings in the first phase of the programme by the end of 2017, two years ahead of schedule.
"There is no reason to think that the second phase of the project won't be as efficient as the first."