Longer term plan needed, trade bodies say
The industry has given a mixed response to the government's 10-point plan to meet its net zero targets by 2050 by creating a "green industrial revolution".
Contractors and trade bodies have said the £4bn package, part of a wider £12bn fund which aims to create up to 250,000 green jobs and 'level up' former industrial areas of the UK, does not go far enough in addressing the construction's contribution to CO2 emissions.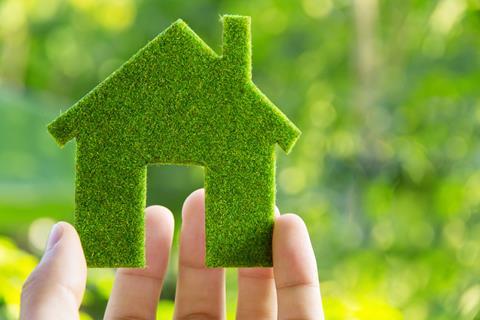 Ramboll UK managing director Mathew Riley criticised the "narrow focus" of the plan, adding that it "simply isn't enough" to make a meaningful impact on the built environment, which currently contributes up to 40% of the UK's carbon footprint.
He said: "Industry collaboration here is key; the construction sector is poised to contribute but the government must lead this interaction and utilise existing knowledge and networks to help the sector innovate, change practices and deliver the change needed."
UK Green Building Council chief executive Julie Hirigoyen welcomed the extension of the Green Homes Grant, which allows landlords and homeowners to claim back up to two thirds of the cost of energy efficiency improvements to homes, by a year.
But she said that the government needed to provide funding certainty beyond the next financial year to "give the industry the confidence to invest in their workforce, hire more staff and develop their supply chains".
She added that more incentives were needed to boost consumer demand for green homes, including a variable stamp duty to make greener homes cheaper and reduced VAT on home renovations to further encourage homeowners to invest in energy efficiency improvements.
Federation of Master Builders chief executive Brian Berry also welcomed the extension of the Green Homes Grant, but added that the initiatives "need to be more ambitious about the built environment if the government is serious about creating a low carbon economy".
Berry, RIBA president Alan Jones and the Chartered Institute of Building (CIOB) said they were disappointed that the government's plan did not include a national retrofit strategy to make homes greener, with the CIOB saying that the £12bn fund was a "drop in the ocean compared to the amount that will be needed to ensure that our built environment is fit to meet the net zero target".
It was a view seconded by former RIBA president and chair of housing specialist HTA Design Ben Derbyshire, who tweeted: "The plan is a start but not quite a green industrial revolution."
Jones added: "When it comes to energy efficiency, our homes are fundamentally below the mark, and this will only be made more obvious by the changes in working habits brought about by the covid-19 pandemic."
But the funding was welcomed by Civil Engineering Contractors Association director of external affairs Marie-Claude Hemming, who said: "We are pleased that this plan recognises that the UK needs a mixed portfolio of energy generation, with projected investment in both wind energy and in large and small-scale new nuclear reactors."
And director of policy at the Environmental Industries Commission Matthew Farrow said: "These tangible steps will ensure progress continues towards a carbon free future." He urged the government to bring in regulations to enforce the policies to combat "sometimes scandalously low" compliance.
He warned: "Without more effort and resources put into this area, today's encouraging announcements are likely to have limited impact."
The government's announcements coincide with the month in which the UN's climate change conference, also known as COP26, was due to be held in Glasgow before it was postponed to November 2021 due to the covid-19 pandemic.
The government's 10-point plan for a "green industrial revolution"
Offshore wind: Producing enough offshore wind to power every home, quadrupling how much we produce to 40GW by 2030, supporting up to 60,000 jobs.
Hydrogen: Working with industry aiming to generate 5GW of low carbon hydrogen production capacity by 2030 for industry, transport, power and homes, and aiming to develop the first town heated entirely by hydrogen by the end of the decade.
Nuclear: Advancing nuclear as a clean energy source, across large scale nuclear and developing the next generation of small and advanced reactors, which could support 10,000 jobs.
Electric vehicles: Backing our world-leading car manufacturing bases including in the West Midlands, North East and North Wales to accelerate the transition to electric vehicles, and transforming our national infrastructure to better support electric vehicles.
Public transport, cycling and walking: Making cycling and walking more attractive ways to travel and investing in zero-emission public transport of the future.
Jet Zero and greener maritime: Supporting difficult-to-decarbonise industries to become greener through research projects for zero-emission planes and ships.
Homes and public buildings: Making our homes, schools and hospitals greener, warmer and more energy efficient, whilst creating 50,000 jobs by 2030, and a target to install 600,000 heat pumps every year by 2028.
Carbon capture: Becoming a world-leader in technology to capture and store harmful emissions away from the atmosphere, with a target to remove 10MT of carbon dioxide by 2030, equivalent to all emissions of the industrial Humber today.
Nature: Protecting and restoring our natural environment, planting 30,000 hectares of trees every year, whilst creating and retaining thousands of jobs.
Innovation and finance: Developing the cutting-edge technologies needed to reach these new energy ambitions and make the City of London the global centre of green finance.