Developer says it is in "execution mode" despite economic uncertainty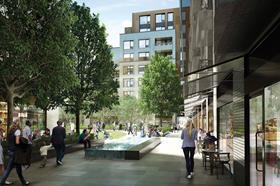 Developer Great Portland Estates is pressing ahead with construction of its "largest ever" development pipeline, with up to £513m of schemes either committed to or close to being given the green light, it said today.
In half year results for the period to 30 September, Great Portland Estates (GPE) said it now had nine committed schemes in its development pipeline, due to provide 853,000 sq ft of space. It also reported "good progress" on two further London West End schemes totally 314,000 sq ft that its said were "near term" but not yet fully committed.
The developer also has another 12 sites which it is working on schemes for, giving a total development pipeline of 2.5 million sq ft.
The update came as the developer, who let its Rathbone Place scheme to Facebook in the period, reported growth in the value of its £2.7bn portfolio of 14% in the last six months, with a return on its capital of 11.9%.
Toby Courtauld, GPE chief executive, said the results came despite growing economic uncertainty. He said: "We are pleased to report another strong set of results, driven by market-beating portfolio returns, particularly in our development business. Today we are in execution mode, focussed on generating organic growth through developing, refurbishing and growing income across our 3.6 million sq ft portfolio.
"Despite elevated levels of economic uncertainty since the summer, the employment intentions of the capital's businesses remain expansionary and their space needs are following suit. Vacancy rates are now at record lows in the West End and, with much of the inventory of space under development already pre-let, we can look forward to further increases in rents."