'Metro mayor' will have powers over transport, housing and strategic planning across 10 city region councils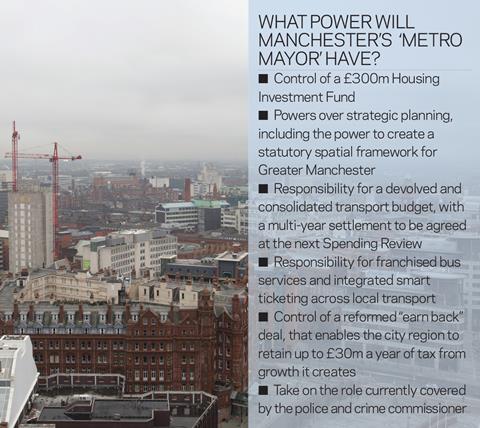 Greater Manchester has agreed a landmark deal with the government that will see the city region governed by a London-style mayor with powers over transport, housing and strategic planning.
Chancellor George Osborne announced the deal this week, which includes proposals to devolve further powers to the Greater Manchester Combined Authority (GMCA), including over support for business growth, skills and help to join up health and social care budgets. Osborne said the deal, which ends years of opposition from the 10 councils across Greater Manchester to the metro-mayor model, would create a powerful devolved administration with strong political leadership that can drive through policy to stimulate economic growth and plan strategically across the city region.
The metro mayor will control a £300m housing investment pot, and will be handed powers over strategic planning, transport and policing (see box). The government will now prepare legislation to enable the change, with the first mayoral election likely to take place in 2017.
Manchester rejected taking on an elected mayor in a referendum in 2012, although the mayoral model voted on at the time was for a mayor for Manchester council, not the wider city region. Although there are other city mayors across the country, such as in Liverpool and Bristol, this will be the first time a city region, comprising multiple local authorities, has taken on the metro-mayor model outside of the capital. The mayor will be scrutinised by the 10 councils that comprise the city region and can have decisions blocked if opposed by seven of the 10 council leaders.
Osborne said he hoped Manchester would be the first of many big cities to take advantage of a greater devolution of powers, with the government expected to announce further powers to be devolved to Leeds and Sheffield ahead of the Autumn Statement next month. Osborne said the deal would "give Mancunians a powerful voice and bring practical improvements for local people, with better transport links, an Oyster-style travelcard, and more investment in skills and the city's economy".
"I want to talk to other cities who are keen to follow Manchester's lead - every city is different, and no model of local power will be the same.
"Giving cities power is part of our long-term economic plan to reduce the decades-old gap between north and south, London and the rest."
Lord Peter Smith, GMCA chair and leader of Wigan council, said: "Make no mistake, this devolution settlement is a momentous moment for Greater Manchester. It gives us greater control over our own destiny in several key areas and the ability to base decisions on local priorities and needs rather than on 'one size fits all' dictates from Westminster."
The city region had been seeking additional powers over business rates, as well as its welfare budget. Sir Richard Leese, vice chair of GMCA and leader of Manchester council, said the deal was a first step on the road to further devolution.
"Our ultimate ambition is for full devolution of all public spending in Greater Manchester, currently around £22bn a year, so that we either influence or control the whole amount," he said.
"We recognise that this cannot happen overnight and there needs to be a staged approach based on evidence that devolution delivers increased economic growth and better public services."