Study finds more energy efficient homes can command a premium price from house buyers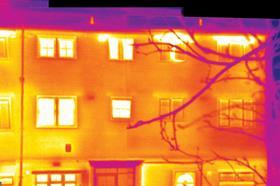 The Green Deal could be set for a boost after a government study found improving the energy efficiency of a home could increase its value.
Research by the Department of Energy and Climate Change on over 300,000 homes found that improving the Energy Performance Certificate (EPC) rating of a house could add up to £41,808 to its value.
The increase in value was different depending on the location of the property. Properties in the North-east with a EPC rating of G could expected to see price increases of 38% if improved to an A or B rating. Properties in London could expect to see a 12% price increase for the same improvement.
The study has yet to be peer reviewed.
Energy minister Greg Barker said the study was evidence of the "huge potential rewards" of taking-up energy efficiency.
He added: "The Green Deal is helping more people make these types of home improvements, reducing high upfront costs and letting people pay for some the cost through the savings on their bills. The Green Deal is a great option for anyone wanting to improve the look, feel and potentially the value of their home."
John Alker, director of policy at the UK Green Building Council, said the study provided "evidence that the retrofit industry has been craving for a long time".
He added: "It also provides a timely boost for the Green Deal, which will bring down the upfront cost of a retrofit package for those who choose to use it."
James Brooks, director at Brooks Estate Agents, said energy efficiency was become a serious concern for house buyers.
He added: "With fuel bills continuing to rise, buyers are becoming more and more conscious about the energy efficiency of their prospective new homes and are willing to invest more in a property now if they know it will cost them less to run in the future."
Luciana Berger, Labour's shadow climate change minister, said: "This research completely papers over the cracks in the Green Deal and ignores the fundamental flaws that have put many people off signing up for energy efficiency improvements.

"For months Labour has warned that the Green Deal needs to be a good deal for the public and that the sky high interest rates, hidden charges and penalty payments would put people off.
"Now there are reports that as few as 200 households have signed up for the scheme and one in four workers in the insulation industry have lost their jobs since the scheme has launched.

"Ministers need to take urgent action to deliver the energy efficient homes needed to lower bills, create jobs and cut carbon emissions."
The percentage price increase of properties with an EPC rating of G
| | | | | | |
| --- | --- | --- | --- | --- | --- |
| | EPC A/B | EPC C | EPC D | EPC E | EPC F |
| England average | 14% | 10% | 8% | 7% | 6% |
| North East | 38% | 26% | 23% | 20% | 15% |
| North West | 27% | 21% | 18% | 16% | 12% |
| Yorkshire & Humberside | 24% | 16% | 14% | 12% | 9% |
| East Midlands | 16% | 11% | 7% | 5% | 3% |
| West Midlands | 17% | 10% | 7% | 5% | 5% |
| East of England | 7% | 5% | n/a2 | n/a2 | 4% |
| London | 12% | 12% | 12% | 11% | 10% |
| South East | n/a2 | n/a2 | n/a2 | n/a2 | n/a2 |
| South West | 12% | 7% | 4% | 4% | 3% |