Number of completed Green Deals rises 18% in April, with the biggest month-on-month increase in the pipeline since the launch of the scheme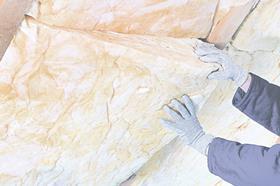 The number of completed Green Deals rose 18% to 1,178 last month, but the number of assessments undertaken in April dropped after a record high in March.
The latest Green Deal figures showed that there were 1,178 completed Green Deals at the end of April, up from 995 at the end of March, with a further 505 signed Green Deal plans.
The figures showed there were now a total of 2,439 Green Deal plans in the pipeline at the end of April, up from 2,000 at the end of March - a 22% rise and the biggest month-on-month jump in the pipeline since the launch of the scheme at the beginning of 2013.
The Department of Energy and Climate Change figures also showed there were 22,005 assessments undertaken in April, down from the record high of 25,138 in March, but still the second highest undertaken in any month since the scheme was launched.
The latest figures for the Green Deal's sister scheme the Energy Companies Obligation (ECO), showed a record high 95,384 retrofit measures were installed through ECO in March, 25% up on the 75,497 installed in February and the highest monthly figure since the scheme was launched.
Of the measures installed through ECO, 29% were new boilers; 36% were cavity wall installations; 21% loft insulation; and 6% other forms of heating, such as biomass boilers.
However, the figures also showed that the level of activity through the ECO brokerage system, designed to help small firms participate in the scheme, hit rock bottom in April, with zero sales registered in the two ECO brokerage auctions held over the month.
The brokerage system is designed to allow smaller firms to participate in the ECO market by selling carbon abatement projects to the energy companies through a blind auction system.
Industry experts have said the fall in brokerage activity in April is due to the conclusion of an incentive scheme in March along with problems with the auction system itself.
Under the government's planned changes to ECO, the energy firms would rack up extra credit for work done under the scheme before the end of March 2014.
Activity through brokerage last hit zero in December 2013, just after the government first announced its plans for swinging cuts to ECO.
But it had since recovered to an average of 17 deals in every round of auctions compared with an average of 24 in the three months before the cuts were announced.
Richard Twinn, policy and public affairs officer at the UK Green Building Council, said: "The recent spike in Green Deal assessments reflected the surge in ECO activity up until the end of March, but changes to the policy mean this work is likely to tail off over the next few months.
"However, it's encouraging to see Green Deals growing steadily, with April representing the biggest month on month jump in new plans. This is potentially good news for the industry as more self-funded Green Deal work could help to offset the loss of ECO subsidy."