Developers Stanhope and Benson Elliot have been given the green light to begin work on the £500m redevelopment of Station Hill in Reading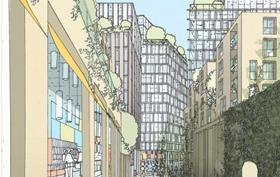 Reading council last night gave Stanhope consent to begin work the clear the site, with a temporary public event space to be developed by the end of next year alongside new landscaping works and the demolition of the existing vacant retail buildings opposite Reading Station.
The first elements of the phased scheme will commence in 2014.
The outline scheme by Sackville Developments Reading Limited (SDRL), the joint venture between Benson Elliot and Stanhope, is for a mixed-use development on the five acre site, which will provide office space and a range of town centre uses including retail, leisure and residential.
In addition, the scheme will allow for the creation of a new public realm, which will comprise a significant public square within the development.
The joint venture's plans, designed by Allies & Morrison, proposes a maximum of around 1,200,000 sq ft of development, principally offices but also 32,000 sq ft of shops, 9,000 sq ft of leisure and c.300 flats, of which a proportion will be affordable housing.
Jason Margrave, development director at Stanhope, said: "This is a massive step forward for the town centre with huge private investment to transform Station Hill into a new place to work, shop, live and enjoy.
"This builds on the significant investment already made in Reading Station. We intend to progress with the initial works to start clearing the site early in 2014 and hope to have the temporary public event space ready by the end of 2014 / early 2015, with a first phase office building following shortly thereafter.
"We have included an enlarged public open space in the heart of the scheme with new public realm and leisure facilities. The scheme provides a great opportunity to extend and enhance the retail core in line with the borough's long term vision and it will also create significant new employment opportunities in Reading."