Convoys Wharf scheme will be built at former Royal Dock
Farrells has been given the green light for the first phase of a £1bn mixed-use scheme on a former dockyard in Deptford.
The 456-home block will be the first of 22 plots earmarked for development at Convoys Wharf, a former Royal Dock founded by Henry the VIII in 1513.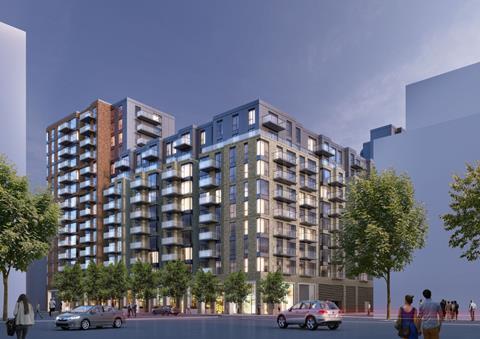 Aecom is structure and transport consultant, alongside engineer Cundall, planning consultant DP9 and landscape architect Gillespies.
Lewisham council is hoping work can start onsite next year, with the wider scheme aiming to transform the currently inaccessible brownfield site into a new waterfront district complete with a 1.5-acre park built on an existing pontoon above the river Thames.
When completed, the scheme will feature three towers up to 40-storeys tall and 3,500 new homes, linked to Deptford High Street which connects to the southern edge of the site.
Convoys Wharf's recent history dates back to 2002 when Richard Rogers was appointed to draw up a plan for 3,500 homes for News International.
Hong Kong-based Hutchison Property bought the site in 2008 and appointed Aedas to redraw the plans.
But these attracted so much criticism that Aedas was replaced by Farrells in 2013.
The scheme was given outline planning by then London mayor Boris Johnson the following year.