Big Data Institute at Oxford University is flanked by two others by same architect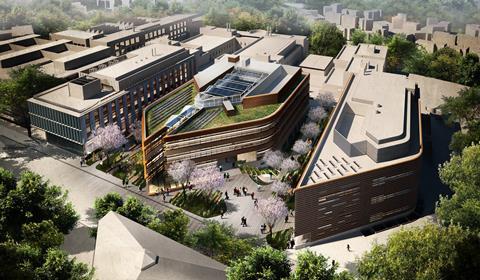 Make has won planning for its fifth building for Oxford University.
The Big Data Institute (BDI) will stand between two other Make buildings on the Old Road campus east of the city centre.
Its 552 staff will store, analyse and process vast amounts of health-related digital data with the aim of providing new insights into illnesses and treatments.
It complements its Make-designed neighbours, the Kennedy Institute of Rheumatology and the NDM research building, through the use of the same design principles, said Justin Nicholls, Make partner and lead project architect. These are a masonry plinth, four storeys of accommodation, a single-height main entrance and set-back roof top plant.
"Internally the innovative open-plan spaces, lecture theatres and large expressed high-powered computing hall are gathered around a grand reading space forming the ultimate heart of the building," he said.
A veil of horizontal aluminium bands forms the basis of the main facade design, ensuring the building reads as a sibling to the adjacent NDM research building, he added.
The BDI is part of a wider, decade-long capital masterplan which the university began implementing this year.
The two other buildings designed by Ken Shuttleworth's practice for the university were 2011's Oxford Molecular Pathology Institute and the Old Road Campus research building dating from 2007.
This story first appeared on Building Design