Farmer Review author says tragedy has thrown the spotlight on industry regulations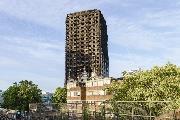 The man behind last year's government report into the construction industry has said the Grenfell Tower tragedy has given the impression that industry standards are being used to "play the system".
Farmer Review author Mark Farmer said the government decision to test the cladding on 600 blocks – as Building went to press more than 180 in over 50 local authority areas had failed, which is a 100% failure rate – has thrown the spotlight sharply on industry regulations.
He said: "Confusion over cladding testing is already perpetuating the feeling that some of our most important industry standards are indeterminate, lack transparency and appear open to gamification or playing the system."
He added that last month's fire, which is so far believed to have claimed the lives of 80 people, had also given rise to an "increasingly negative public perception" of residential developers".
"The homebuilding sector fundamentally needs to be building more genuinely affordable, high-quality homes more quickly in the right places," he said.
The government has appointed an expert advisory panel on safety to examine whether building regulations need changing in the wake of the blaze.
The panel's remit is to provide independent advice to ministers on any immediate measures that may need to be put in place to make buildings safe for residents following the Grenfell Tower fire.
Chaired by Sir Ken Knight, former London Fire Commissioner, the panel includes Peter Bonfield, chief executive of BRE, and Amanda Clack, president of the RICS.