Sadiq Khan says residents must have their legal fees covered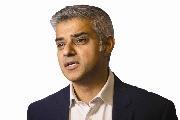 The Grenfell Fire public inquiry must focus on whether the tower's recent refurbishment by Rydon contributed to the tragedy, mayor of London Sadiq Khan has told prime minister Theresa May.
He said the inquiry should be split into two stages, with the first stage examining "the way it [the refurbishment] was installed and the materials used, and if these were compliant or non-compliant with fire and building regulations".
Khan (pictured) detailed nine key areas of focus for the inquiry's first stage, which also included "whether the design of the building helped the spread of the fire and/or hindered the escape of residents".
He said the second stage of the inquiry should focus on "the lessons going forward and recommendations on how to avoid a repeat of the tragedy", including establishing whether the lessons were learnt from the inquest into the 2009 Lakanal House fire in Southwark, whether the level of protection from building design and fire prevention regulations is adequate, and whether the fire safety check regime is to a high enough standard and being adequately enforced.
The mayor warned that construction firms and local authorities "will secure the very best legal representation" for the inquiry, so "the government must confirm that families, survivors and local civil society groups will have their legal fees covered. There must be no inequality of arms."
Khan called for an interim report to be published this summer. "It will allow for the swift implementation of any urgent steps that need taking as regards fire safety in similar buildings across the country," he said.
"It is also important that immediate steps are taken to preserve evidence if there is a risk of it being destroyed by those holding it. The relevant authorities, whether pursuant to an inquiry or to a criminal investigation should be considering whether those powers of seizure need to be exercised now as a matter of urgency," Khan added.
The mayor told the prime minister: "I welcome your decision to hold a Public Inquiry into the fire, as this offers the best opportunity to get to the truth. Getting the terms of reference right for the public inquiry is absolutely crucial if this is to have the confidence of the local community, families and survivors. I hope you will agree to work closely with the community to ensure this happens.
"The devastating fire that tore through Grenfell Tower on 14 June 2017 has shocked the nation. Survivors, local residents and the whole country rightly want answers on what caused the fire, and what must be done to prevent a repeat."