Kingspan used out-of-date fire test information to market its combustible Kooltherm K15 insulation for more than a decade

Evidence about leading insulation manufacturer Kingspan dominated this week's Grenfell Tower Inquiry hearings, painting a stark picture of a business intent on ensuring the use of its products faced as few barriers as possible despite the evidence of fire safety tests.
The inquiry's current round of hearings is probing the products used for the flawed refurbishment of Grenfell Tower in west London, which caused the 2017 fire that claimed 72 lives.
Kingspan's combustible Koolterm K15 phenolic insulation was never specified for use as part of the refurbishment – delivered by main contractor Rydon – but it was subsequently found to have been installed behind the new aluminium composite material (ACM) cladding on some parts of the block.
On Monday, Kingspan technical project manager Ivor Meredith told the inquiry that the firm had continued using a 2005 test report to support the use of its Kooltherm K15 product in even though the insulation's composition had changed the following year. The situation went on for a further 15 years.
Meredith said it had been "common knowledge" within the business that the so-called "old technology" K15 report produced by the Building Research Establishment (BRE) had been used to support sales of the newer version of the product, dubbed "new technology" K15.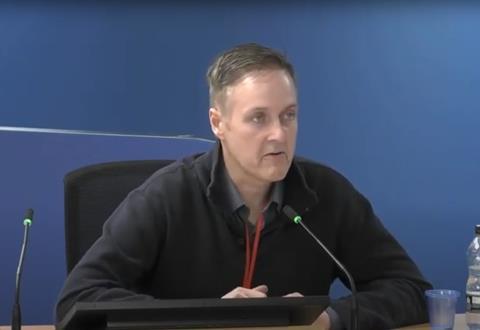 Last month, Kingspan withdrew the BRE test reports for the product – used behind the ACM cladding on Grenfell Tower when specified insulation Celotex RS5000 was not available. It said the product used for the 2005 test was "not sufficiently representative of the product currently sold into the market place".
The inquiry heard that the "new technology" K15 underwent its first major fire test in December 2007 and became a "raging inferno" within 17 minutes of the test starting.
Meredith's report from the test said the insulation "was burning on its own steam and the BRE had to extinguish the test early because it was endangering setting fire to the laboratory".
He said he was "shocked" by the result and added: "I sent a very animated report around to my superiors to make sure they were aware."
Asked by inquiry barrister Kate Grange QC what their reaction had been, Meredith answered that he could not remember any real sort of shock.
"I don't think they were concerned in the same way as me," he said.
The session also heard that in addition to relying on an out-of-date fire test report to support K15 for well over a decade, Kingspan was also forced to withdraw a marketing flyer that claimed the insulation had been "approved in accordance with BR135".
The BRE complained that it had not given K15 the BR135 approval, which is a criteria for assessing the fire performance of cladding systems.
On Tuesday the inquiry heard that Kingspan threatened the National House Building Council (NHBC) with an injunction when the organisation discovered that K15 was not compliant with building regulations.
NHBC, which provides warranties on new homes and is the country's largest building control body, warned Kingspan that it would have to start informing projects that had used K15 that it was not compliant.
But Kingspan's lawyers responded to the warning with a February 2015 letter demanding a "sensible period in which to demonstrate compliance" against the threat of legal action under the Defamation Act 2013.
In an about-face, the NHBC published guidance in 2016 confirming that K15 could in fact be used on buildings above 18m. The insulation also received certification for use on high rise buildings by Local Authority Building Control, which wrongly said that K15 held the status of limited combustibility needed for use on tall buildings. Celotex also benefitted from the NHBC's guidance and LABC's error.
The inquiry also heard how Meredith, who was responsible for proving Kingspan's products were safe to use on tall buildings, had a serious drug problem.
Meredith was fired for gross misconduct in 2015 for falling asleep at his desk and driving a company car against management instructions.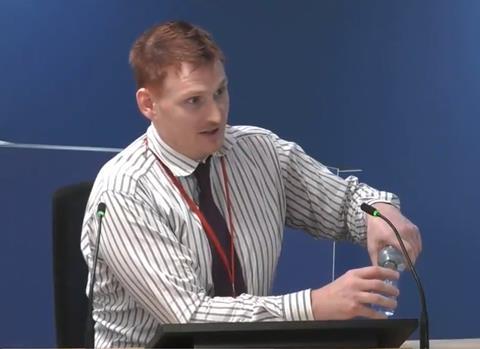 On Wednesday, former Kingspan technical adviser Gareth Mills insisted the firm was "not dishonest" in its use of test data for K15, but admitted that some of its marketing material could have been misleading.
Mills, who worked at Kingspan between 2003 and 2014, accepted the firm had been seeking to "maximise what scope they could get on approvals" for K15 – but said he was not aware that the firm had been dishonest about the testing used to prove to clients that the insulation was safe.
The inquiry heard Mills had received an email from Kingspan technical manager Philip Heath in July 2008 on the topic of potential revisions to the draft of a British Board of Agrément report on K15. Heath suggested that rewording the proposed text to include the words "non combustible" would give the firm leeway to "use a little spin in future".
Barrister Grange asked Mills whether Kingspan had pursued a deliberate marketing strategy to widen the scope of the product certificates it obtained
Mills replied: "I suppose they did want things to be as general as possible, yeah."
He subsequently admitted there was "a possibility" that the marketing material for K15 had been misleading after an intervention from inquiry chairman Sir Martin Moore-Bick.
Mills was asked about a certificate for K15 obtained from LABC which stated wrongly that the insulation was a "material of limited combustibility".
Moore-Bick asked Mills: "Did you think it was misleading… in the sense that it was liable to mislead someone who didn't have the same degree of technical knowledge that you had?" Mills replied: "It's a possibility, looking back, yeah."
On Thursday the inquiry heard the current module's last witness from insulation manufacturer Celotex, Deborah Berger. Berger was the company's product manager for RS5000 – the main insulation used for Grenfell's flawed cladding system – and worked for the firm between 2010 and 2014.
She was asked about Celotex's attempts to cover up the fact that a BRE fire test of a cladding system featuring RS5000 had been conducted with additional fire-stopping measures not detailed in marketing literature. One such measure was the insertion of 6mm magnesium oxide panels between the insulation and the Marley Eternit rainscreen, which would make it harder for fire to spread.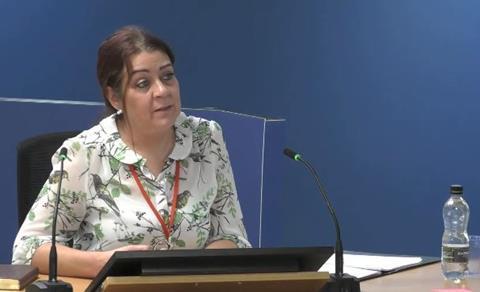 She told the inquiry that she had been so shocked to discover that Celotex had rigged BRE test data for RS5000 that she wrote "WTF?" – short for "what the fuck?" – in the margin of the report where the magnesium oxide panels were mentioned.
Asked about her comments by inquiry lead counsel Richard Millett QC, Berger said they had been "shorthand for shock".
"I didn' t think Celotex would… would do this," Berger said. "I thought Celotex was a good company. I thought Celotex prided itself on doing the right thing, being honest, and I was really shocked by this."
Millett asked Berger to clarify what it was she believed Celotex had done.
"Well, it appeared to me that Celotex had taken some materials and installed them to pass the test," she said.
The inquiry continues.