Inquiries into this summer's fire will show up 'systemic failings in our industry', Mark Farmer predicts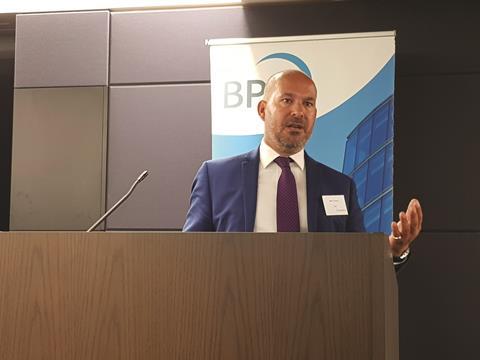 The man behind last year's government-commissioned report into the construction industry has said that the Grenfell Tower fire should force the industry to change the way it works.
Mark Farmer said the tragedy, which is believed to have killed up to 80 people, should be viewed as a "game-changer" for the industry.
His comments came as the Metropolitan Police said the number of firms identified as being involved in the construction and refurbishment of the tower had rocketed to 336 – from the 60 previously thought. The Met also said this week that it may consider individual as well as corporate manslaughter charges in the case.
Grenfell has accelerated the focus on workmanship, quality and processes

Mark Farmer
Farmer, the chief executive of consultant Cast, told a British Property Federation event to mark the first anniversary of his Modernise or Die report: "Nobody wants change to come through something like this, but it is highly likely that some of the broader analysis that will go on post-Grenfell around building regulation will look at systemic failings in our industry and will all link back at the need to modernise what we do.
"Grenfell has accelerated the focus on workmanship, quality and processes. The building regulations review will set the bar higher and push it even more into controlled factory environments if we are to achieve higher quality. It adds to the momentum of working in a different way."
Farmer's report, which came out last October, made a series of damning assessments about how the industry is failing on issues such as innovation, productivity levels and a shortage of workers.
He said the construction industry has made positive steps in the almost 12 months since his report but still warned it faces "disaster" if his recommendations are not fully met within the next decade.
He added: "We are seeing a momentum shift, with the industry recognising we have to change the way we deliver, but it hasn't been very good at proving it can do that at scale in the past, in particular towards positive incentives, and [has] not been able to collectively reform because it is very fragmented.
"If this goes beyond a decade, it could be disastrous. The industry has to deliver the homes, hospitals, schools, offices, shopping centres and hotels needed."
Farmer also threw his weight behind a reformed CITB – and said the industry needs such a body in order to make sure it can carry out the changes required. He said: "Without it and the concept of a levy to centralise funding and innovation, our industry willreally struggle."
Farmer's report last year said the industry was too fragmented and was dogged by low margins, financial fragility, adversarial relationships, poor investment in innovation, a bad public image and no coherent leadership.