Building will be home to 3,000 pupils
Grimshaw has unveiled plans for a 14-storey school in the Sydney suburb of Parramatta.
The architect has teamed up with local practice BVN for the work which will see a high school and primary school built at the same site.
Turner & Townsend is providing full cost management services and advisory on the construction.
It will house 3,000 students in total and be the new home for the Arthur Phillip High School and Parramatta Public School.
Each school is comprised of small personalised units, or 'home bases', with students from across a range of ages and backgrounds.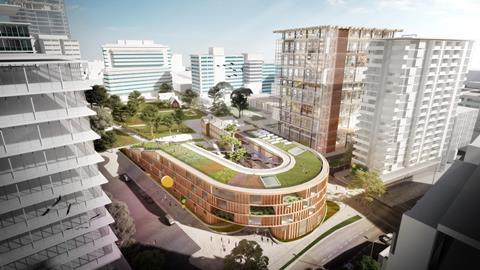 The 66 m high secondary school houses six home-bases within a series of large two storey spaces. With stacked mezzanines and outdoor learning terraces, each home base contains science, technology, engineering, arts and mathematics facilities at all of the building's levels.
The primary school runs across four storeys and includes three home-base areas and a kindergarten. These are interlinked horizontally and vertically with stairs, terraces and platforms.
Each home base will accommodate up to 280 primary and 330 secondary students.
Anooj Oodit, managing director for Turner & Townsend Australia and New Zealand, commented: "Vertical high rise schools are an increasing trend in modern cities as communities look to accommodate growing populations and new ways of learning. The re-development of Arthur Phillip High School and Parramatta Public School will set the benchmark for future high rise schools in Australia.
"Through our extensive experience delivering complex education projects, we are delighted to have been appointed on the project to support the department in achieving the project's objectives."
Turner & Townsend has also been appointed to provide project management services on the first vertical high school in the South Australia region, which will cater for 1,500 students.
Source
This story first appeared on Building Design