Scheme will see up to 1,350 BTR homes built, along with a new secondary school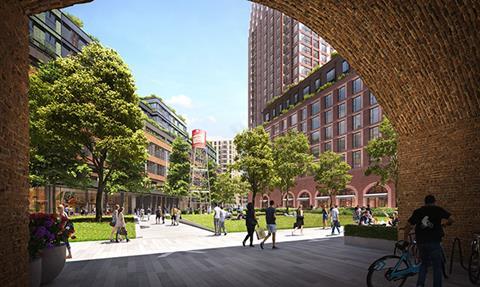 Grosvenor has confirmed its final proposals for a £500m build-to-rent (BTR) scheme in Bermondsey, south east London.
The plans, which are subject to planning and go on display to the public today, will see up to 1,350 BTR homes built on the 12-acre site of the old Peek Freans biscuit factory, located next to a major railway line running between New Cross and London Bridge stations.
The Kohn Pedersen Fox Associates-designed scheme, details of which emerged in June, includes a 600-place secondary school, more than 10,000m² of office space and the same area in retail and leisure facilities.
The development will also feature 25,000m² of streetscapes and play space, along with 400m² of new public lawns and some 140 new planted trees.
In a statement Grosvenor said it wanted to deliver a number of homes on a range of discounted market rents and to manage all these homes for the long term.
Also subject to planning, Network Rail is hoping to convert 165 nearby railway arches, currently unused, into offices, shops, restaurants and light industrial businesses, Grosvenor said.
A number of the older buildings in the factory complex are owned by the Workspace Group and will be retained.
Katherine Rodgers, development director, Grosvenor Britain & Ireland, said the firm wants to see a "growing district with historic buildings retained and new commercial spaces, local amenities and public spaces created".
Grosvenor's masterplan will be on display during three public drop-ins in Unit H05 at the Clements Road entrance to the biscuit factory site (SE16 4DG) on Thursday 5 October 4-8pm; Friday 6 October 2-6pm, and Saturday 7 October: 10am-2pm