Councillors reject plan to use public cash to help fund museum's £110m cost
The Guggenheim has admitted defeat over its plans to build a new museum in Finland's capital after Helsinki city councillors rejected a request to part fund the scheme.
The £110 million deal was won in the summer by French practice Moreau Kusunoki Architectes.
But the scheme, which would have been the New York-based musuem's fourth outpost after Bilbao, Venice and Abu Dhabi, now seems doomed after councillors voted 53 to 32 against handing over around £42 million of public money – more than a third of its cost – to help bankroll the plans.
Solomon R Guggenheim Foundation director Richard Armstrong told the New York Times: "I suppose that it was a reaction to a sense of engulfing internationalism, or a reaction against globalism. That's how I'm explaining it to myself."
He told the paper he was surprised by the resistence to the project, gievn that he said it would raise the cultural profile of Helsinki and admitted: "I think it's unlikely that there would be any further activity [on the Helsinki museum]."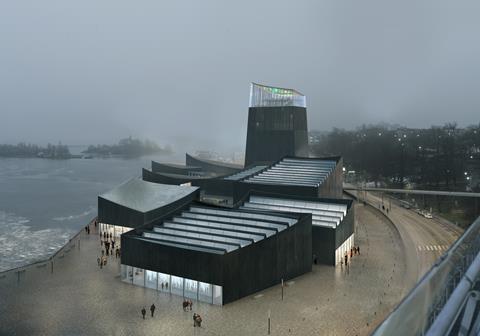 The competition was organised by Malcolm Reading Consultants whose chair Malcolm Reading said the scheme seemed finished – but held out hope that it could continue. "Our involvement is over but [as for the scheme] I would never say never."
Moreau Kusunoki took home a €100,000 first prize while the five runners-up – including the UK's Asif Khan – took home €50,000 each. Reading said these payments would have been honoured and were not dependent on the scheme going ahead or not.
The Guggenheim's plans had long proved to be controversial and a rival competition objecting to it was set up.
Called Next Helsinki, this attracted more than 200 entries from 37 countries and was launched to generate ideas for exactly the same site as the official competition, overlooking the city's South Harbour, and had a jury chaired by architect and writer Michael Sorkin.
The official Guggenheim competition attracted a record 1,715 entries, whittled down to a shortlist of six including the UK's Asif Khan.
But Sorkin and a group of Finnish artists said their competition was launched as a protest against the decision to give a key site in Helsinki to a foreign-owned museum chain.
It called on architects, urbanists, artists and environmentalists to imagine how South Harbour could be "transformed for the maximum benefit of the city".
Complaints also centred on whether the site was the right one for a museum but Reading said: "I don't agree. I think it was a perfect site. It was full of buildings from two-and-a-half centuries."
In 2011, the City of Helsinki organised an ideas competition for the site which said that entrants had "to create a comprehensive ideas plan for the South Harbour that can be used as a basis for the future development of the area".