Building's survey finds massive levels of sexual discrimination, victimisation and harassment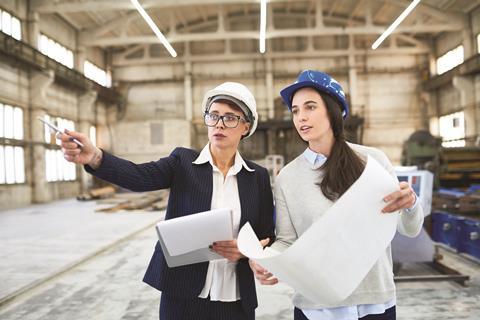 More than half of women working in construction have said they have experienced harassment or victimisation during their career, according to Building's Women in Construction survey.
And the survey reveals that 55% of women have suffered sexual discrimination with 31% of those saying they had experienced it in the past year.
The survey, carried out by recruitment consultant Hays for Building in November last year, found that 56% of women had experienced harassment or victimisation in their career – compared with 36% of men.
'We've seen a huge public backlash against harassment. people are not prepared to stand for it'

Theresa Mohammed, Trowers & Hamlins
Ann Bentley, the global practice director of Rider Levett Bucknell, said she was not shocked by the findings of the survey, which was answered by 600 women and 300 men.
Bentley added: "When you tell most well-meaning men about this kind of thing they're absolutely staggered, they say 'no, no, this doesn't happen anymore'. Women know it does. It only takes a very small number of harassers to have this impact."
And Theresa Mohammed, a construction partner at law firm Trowers & Hamlins, and chair of the National Association for Women in Construction, said: "These figures are terrible. But it's just becoming not acceptable on a construction site to behave in a bad way. We've seen a huge public backlash against harassment in recent months and […] people are just not prepared to stand for it."
The survey also threw up other discrepancies, with just 20% of women feeling there is equal pay between the sexes at their firms, compared with nearly half of men. These findings are supported by government data showing pay gaps of anything up to 44% in various construction occupations such as construction and building trades supervisors.
But Richard Gelder, UK built environment director at Hays, said changes are being made to tackle diversity problems: "You're seeing people appointed in roles to drive the inclusivity agenda, and these are people with the clout to get things done. It's driven now at organisational level by the main board and the senior management – something that simply wasn't in place a couple of years ago."
Last year Lendlease became the first major contractor to publish its gender pay gap figures, which show that women at the business earn on average one-third less an hour than their male colleagues.
From this April, all firms in the UK with more than 250 staff are required by law to publish annual figures showing the pay gap between their male and female employees, with the results being published on the employer's own website as well as a government site.
So far just 17 firms in construction have published gender pay figures, including Land Securities, which pays women an average 33.3% less than men per hour, while German firm Bilfinger pays 32.6% less and housebuilder MJ Gleeson pays an average of 8.3% less.
More than 530 firms across all sectors have published their figures with Ladbrokes, Easyjet and Virgin, Money among the major companies to reveal gender pay gaps of more than 15% in favour of men for mean hourly pay.