Coroner hears passerby was hit by two half-tonne windows from construction site in Mayfair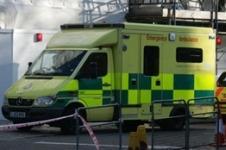 An inquest has opened into the death of a pedestrian who was crushed to death by falling windows next to a high-profile construction site in London's Hanover Square.
Forty-four-year-old solicitor Amanda Telfer, of Mill Street, Southwark, died on 30 August after being pinned to the ground by two 13ft-by-13ft window frames next to 5 Hanover Street – a large commercial and retail development by developer Stanhope - the ground floor of which was being fitted out as a gallery.
At a hearing on Wednesday, Westminster Coroner Dr Fiona Wilcox heard that the solid wood frames each weighed around half a tonne and had been propped on the pavement.
The tragedy is being jointly investigated by the Metropolitan Police and the Health & Safety Executive.
Before adjourning the hearing, Dr Wilcox said the investigation was expected to take "some considerable time" and added that she was not aware of any criminal charges at this point.
Post-mortem results found Ms Telfer died from "blunt-force trauma".
A spokesperson for Mitsui Fudosan, owners of 5 Hanover Square, said: "We can confirm that a tragic construction accident occurred on 30th August, on Hanover Street. Our thoughts are with the woman's family at this terrible time.
"We regret that we are unable to offer any further comment at this time as it is our understanding that the incident was linked to a fit-out project being delivered by a contractor employed by the tenant of the ground floor retail unit."
Westgreen Construction confirmed it was the "main contractor" on the fit-out on the site, but declined to offer further comment.
Construction consultant Castle-Davis confirmed they were project-managing the fit-out work at the site, which is due to become a 5,000 ft2 gallery, but declined to comment.