Construction adviser Peter Hansford authors report on boosting solid wall insulation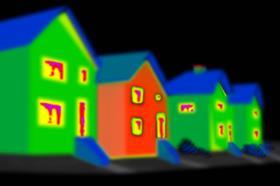 The government should reconsider reducing VAT on retrofit work and Stamp Duty on green homes in order to incentivise homeowners to install solid wall insulation, according to a report by chief construction adviser Peter Hansford which aims to kickstart the industry.
Hansford's report – titled 'Solid Wall Insulation – Unlocking Demand and Driving up Standards' – makes ten recommendations to government to boost solid wall insulation (SWI) demand, improve its affordability and increase its attractiveness as a retrofit solution.
The government has a target to insulate one million homes by 2020, yet its latest energy company obligation (ECO) figures show since the scheme started in 2013, just 97,000 SWI installations have been made out of 1.5m retrofit measures installed.
In comparison, around 595,000 cavity wall installations have made under ECO in the same period.
Proposals in the report include reducing VAT and Stamp Duty to incentivise private homeowners to install SWI, as well as encouraging social landlords to get it installed by adjusting rent based on energy performance.
The report also recommends creating retrofit co-ordinators for all SWI projects, with "clearly defined responsibilities", as well as encouraging the industry to establish and run a "Retrofit Hub" as a centre of excellence to help kickstart a national retrofit programme. A national programme of retrofitting properties was called for by Building's Agenda 15 campaign.
A leadership forum with industry and government members, which links to the Green Construction Board and/or the Construction Leadership Council, is also recommended in the report.
Hansford says in the report that he anticipates a government response to it "over the next few months".
Speaking in a Q&A at the report's launch at the Department for Business, Innovation and Skills (BIS), Hansford said he expected this response to come from the Department for Energy and Climate Change (DECC), but added: "I'm sure DCLG (Department for Communities and Local Government) and BIS will be involved as well."
Also speaking at the Q&A was Rob Lambe, managing director for Willmott Dixon Energy Services, who said: "The most critical thing from the report is for industry to set up this leadership forum and develop a detailed and cohesive plan. We need a call from government to get industry to respond."
Peter Bonfield, who's leading a review of the government's energy efficiency policy, was also at the event and said Hansford's report was a "gift for the work I'm doing".